Fresh criticism aimed at Met police over coronation arrests
Police have come under fresh criticism for arrests at the coronation, with a safety volunteer claiming they were specifically targeted and a protester saying they were prevented from contacting their named liaison officer.
Accusations of heavy-handedness and bowing to political pressure have been aimed at the Metropolitan Police over the force's handling of the event, which saw a total of 62 arrests.
Six members of anti-monarchy group Republic were held for 16 hours before being released without charge, while volunteers for Westminster Council safety scheme Night Stars were detained in the early hours of May 6 and not released until the late afternoon.
A complaint has also been lodged by royal fan Alice Chambers, 36, who was held in custody for 13 hours after being mistaken for a Just Stop Oil protester as she waited on the Mall hoping to catch a glimpse of the King.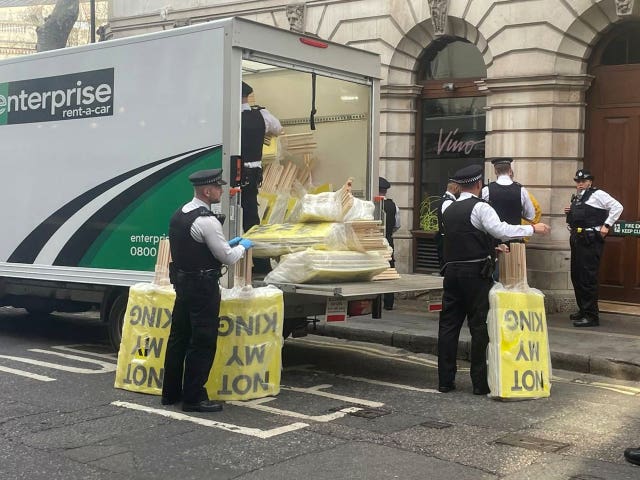 Night Stars volunteer Suzie Melvin told MPs on Wednesday that officers had gone out specifically looking for those involved in the safety scheme, which hands out rape alarms as part of anti-spiking kits.
Giving evidence to the Commons Home Affairs Committee, that has launched an urgent investigation into the arrests, she said: "I was informed by the officer who arrested me that they were specifically looking for the Night Stars and they had been told where we were going to be."
Explaining how her team was approached by police who wanted to stop and search them, she told MPs: "We did the best that we could to try and explain who we were to the officers.
"Then they also searched the church we base ourselves out of."
Chairwoman Dame Diana Johnson said she was "a bit speechless" at details of what had happened. The volunteers were released without charge.
Republic chief executive Graham Smith said the group had been in contact with the Metropolitan Police for months before the coronation to agree details of its planned protest.
But on the morning of May 6 six supporters unloading placards were arrested on suspicion of planning to lock-on – a tactic used by protesters to make themselves harder to move.
The group were the first to be arrested under the new Public Order Act, that came into force days before the coronation, over their possession of luggage straps.
Mr Smith told MPs: "I named the superintendent we'd met in person. I named the liaison officer and attempted to phone her and he (the arresting officer) twice stopped me from doing that, including grabbing my wrist and removing the phone from my hand."
He also questioned the definition of devices that could be used to lock-on.
"I've turned up today with five lock on devices on my person. My tie, my watch, my belt and two shoelaces.
"Someone could have phoned up the Met and said: 'Well he's planning to lock himself to the chair when he's during the middle of the committee', and should I spend 16 hours in detention for that so-called intelligence and so-called lock-on devices?"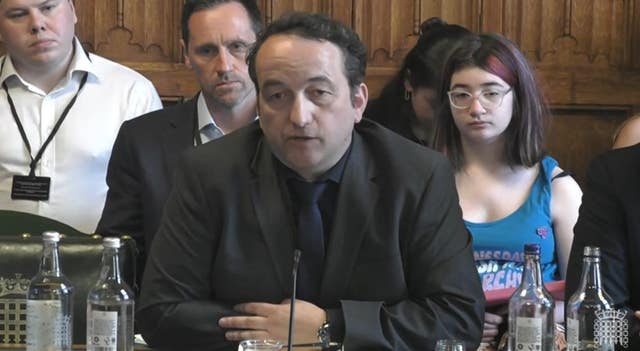 Earlier, Metropolitan Police Temporary Assistant Commissioner Matt Twist rejected accusations that the force had faced political pressure to crack down on protesters.
The i newspaper quoted an anonymous senior police source saying that there had been "a very firm instruction not to damage the reputation of the UK", although the Home Office said it did not recognise the claim.
Mr Twist told the committee: "I felt under no pressure politically, I felt pressure to deliver a safe and secure operation, but that was because of the fact that it was a once-in-a-lifetime event for so many people and there would be hundreds of thousands of people in London to celebrate it, and also, and importantly, this was the biggest protection operation we have ever run.
"There were 312 protected people that we managed to get in and out of the Abbey and across the footprint in about 90 minutes. So the stakes were enormously high, so I absolutely felt pressure to deliver a safe and secure operation. But that wasn't political pressure."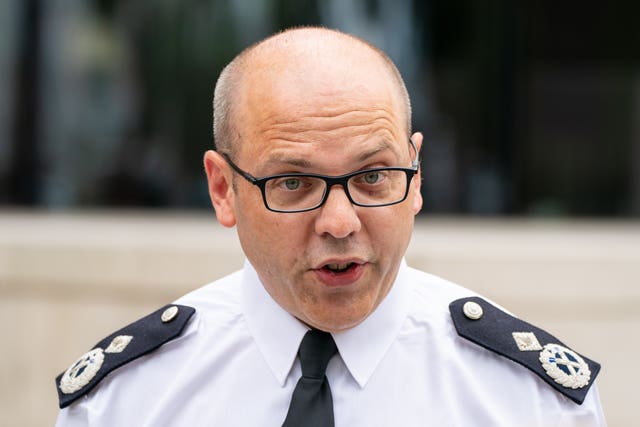 Told that there was no history of Republic using lock-on tactics, he said officers on the ground did not know that the straps would be used to secure placards.
Mr Twist said: "Officers have to make a difficult judgment at the time, in the moment, based on what they are faced with and based on the information they have.
"They have to form reasonable grounds for an arrest and, as the committee will know, reasonable grounds is actually quite a low threshold and is much lower than where you would need grounds to meet the evidential test to charge and a public interest test to charge.
"So what was found was 12 heavy-duty material straps with combination locks on them, which the officers were told was for securing placards.
"But at the time, the officers were operating in a threat environment where they believed, taking into account the time, the location, proximity to the route and what they had in front of them, those officers believed that those could be items that could be used for locking-on, and that was why the arrest was made."