Micheal Martin defends rifle training for Ukraine soldiers as non-lethal aid
Tanaiste Micheal Martin has defended the decision to allow Irish soldiers to provide basic rifle training to Ukrainian soldiers as non-lethal aid, arguing it is "humanitarian to defend your people".
Mr Martin made the comments during a visit to Kyiv for an extraordinary meeting of the EU Foreign Affairs Council.
It comes after 30 Irish soldiers provided training for members of the Ukrainian Armed Forces earlier this year, as part of the EU's Military Assistance Mission in Ukraine programme (EUMAM).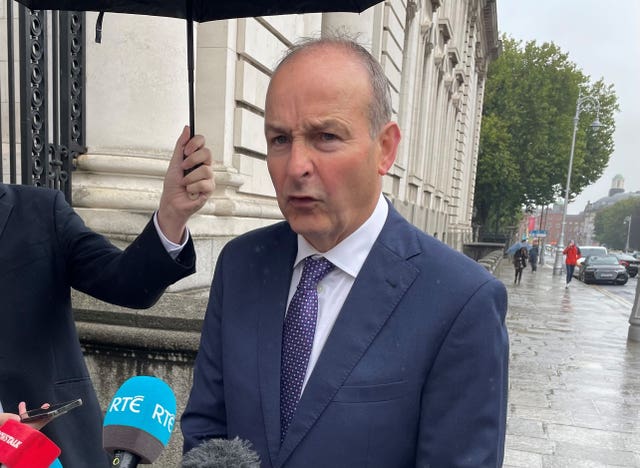 In April, Irish soldiers carried out casualty care training in Dornstadt along with German army medical trainers, and a demining and explosives clearance course was held in Cyprus for four week in conjunction with the Polish army.
Ireland's involvement in another bout of the EU programme was approved by Government in July, and a press release listed Explosive Ordnance Disposal (EOD) and combat medical among the training being offered, but not rifle drills.
People Before Profit TD Paul Murphy criticised the move to provide basic weapons training to Ukrainian soldiers at the time as "a new departure in the Government's breach of Irish military neutrality".
Asked about an Irish Times report that stated rifle training would be included in the programme provided by Irish soldiers, Mr Martin said on Monday that marksmanship was not included in the "very basic drill instruction".
He told RTE's News at One programme that most of the training provided by Irish soldiers had been for casualties and demining, and said that Ireland's contribution to train Ukrainian soldiers "relative to others is modest, to be frank".
When asked whether drill rifle training counted as non-lethal aid, Mr Martin said there was "a degree of overstatement" in some of the descriptions of such assistance.
When it was asserted it was not a humanitarian mission, he replied: "It's humanitarian to defend your people.
"I think there is a basic self-defence issue there that we have to be conscious of in terms of civilians and so forth, the people who have joined the Ukraine defence forces, and I wouldn't overstate it at all, as some have endeavoured to do."
He said that it was "a reality, that's the factual position" that Ireland doesn't provide lethal aid to Ukraine.
When asked how rifle training did not count as lethal aid, he said: "I think in the context of any group that's established to try and defend their territory, I would argue that that's in accordance with the UN Charter."
Discussions on how to strengthen and advance the EU's response to the Russian invasion of Ukraine is expected to dominate the one-day summit of EU foreign affairs ministers in the Ukrainian capital.
While in Kyiv, Mr Martin is due to hold bilateral engagements with UN partners in Ukraine whose work Ireland is supporting, as well as members of the Irish community.
Mr Martin said ahead of the trip that it was a testament to the Ukrainian people that, over a year and a half since Russian troops tried to capture Kyiv, it is hosting a summit there.
He pledged the EU's commitment to take "active measures" to deter Russian aggression against Ukraine, and announced a further 23 million euro (£20 million) in humanitarian and institutional support for Ukraine.
"This brings to 210 million euro our total support for Ukraine since the launch of the Russian invasion in February 2022," he said.