RTE director general says Kielty's jokes at broadcaster's expense were 'great'
RTE's director general has described Patrick Kielty's jokes about the crisis at the national broadcaster as "great".
The new Late Late Show host cracked a series of gags at RTE's expense in the opening monologue of his debut show on Friday night.
The Co Down comedian made light of the misreported payments furore involving his predecessor Ryan Tubridy.
He joked about how often the Late Late Show had been in the news headlines in the four months it had been off air and also quipped about Tubridy's appearance before a parliamentary committee to answer questions on the controversy.
Read more: Patrick Kielty - From Dundrum to Donnybrook and the Late Late Show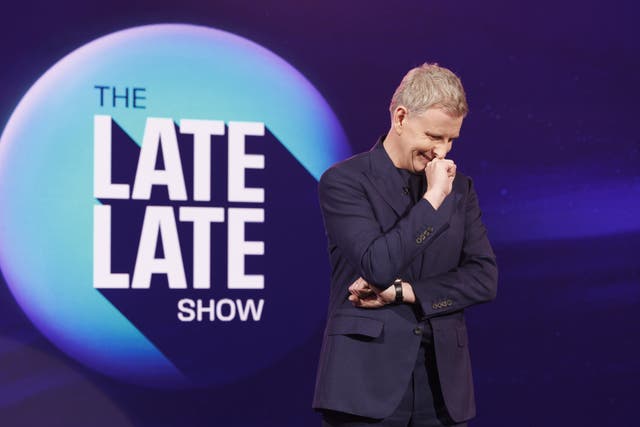 Auditor Grant Thornton has been investigating various issues related to RTE's finances since the misreported payments came to light in June.
One matter that was subject to scrutiny was RTE's use of a so-called barter account to make transactions related to corporate hospitality for advertising clients.
One of the more contentious transactions to be revealed was the purchase of 200 pairs of flip flops for a summer party.
In his opening remarks, Kielty introduced the show's house band as "Grant Thornton and the Flip Flops".
RTE's now facing a major funding crisis, in part caused by a dramatic drop in TV licence revenue collected since the affair became public.
The broadcaster's loss-making ill-fated musical based on the pre-Christmas Toy Show episode of the Late, Late Show has also been heavily scrutinised in recent months.
"Based on the latest figures for TV licence payments, we're expecting an audience of up to 27 people tuning in tonight," Kielty told viewers on Friday.
"Just to put that into perspective, that's almost double the amount of people who saw Toy Show The Musical."
One user on the X platform tagged Mr Bakhurst in a tweet suggesting he would not be happy with Kielty's jokes about RTE.
The director general replied to the user: "Actually thought they were great!"
The RTE boss also later retweeted a clip of the closing of Kielty's monologue.