We're so proud – Ireland team return to roaring welcome from fans in Dublin
Ireland's national football team were welcomed home by cheering fans after their first qualification for the 2023 Fifa Women's World Cup.
Thousands of fans transformed Dublin city's main thoroughfare, O'Connell Street, into a sea of green flags, Ireland jerseys, and homemade signs voicing their support.
As the team travelled to the stage set up in the middle of the street, a live feed from inside their bus appeared on the big screen, drawing roars from the awaiting supporters.
Addressing the crowd from the stage, captain Katie McCabe praised their fans and said it was an honour to lead Ireland women to their first World Cup.
Read more: A World Cup of shocks – A statistical look at the group stage
"Never in all of our wildest dreams did we think this would be possible, to be stood here on O'Connell Street as a team, coming back from a World Cup with all the support, it's absolutely incredible, honestly," McCabe said.
Despite not making it to the knock-out stages, fans said they were proud of the women for qualifying for the World Cup for the first time in Ireland's history, and for inspiring the next generation of footballers.
"I think the whole journey to get to the World Cup, the fans have been to the forefront of that, we always wanted to inspire the next generation," McCabe said.
"What was important for us as a team was to leave a legacy and have something for young girls to look up to, to inspire to be, so I'm hoping we did the nation proud."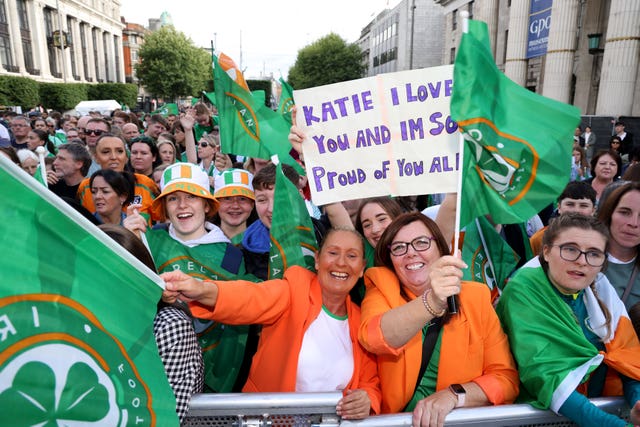 Ireland manager Vera Pauw jumped up and down on stage as the crowd chanted her name, and said "we're so proud".
"We love our fans so much, you are so important to us. We felt the support every second that we were there.
"Thank you so, so much from the bottom of our hearts, and keep with us because the next tournament, we go for medals."
Players waved to young supporters, danced and signed items thrown to them on stage.
Amber Barrett sang a rendition of The Wild Rover, on which the crowd joined in.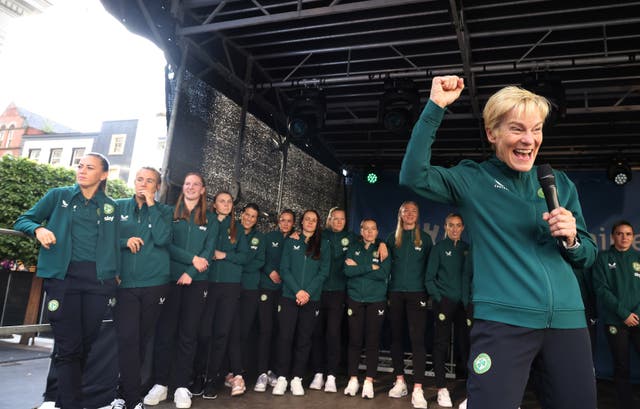 Two aspiring footballers from Swords in north Dublin – Ellie Young, 19, and Kelly Snow, 17 – were among the lucky few to get McCabe's signature.
They said they heard the captain ask for an Ireland flag and Ellie threw theirs on the stage, which McCabe put around her neck. She later signed it and gave it back.
"I saw her looking 'can someone get a flag?', and I was like 'here, have it!'. It's just a chance that she signed it," Ellie said, adding the flag would now hang in her bedroom.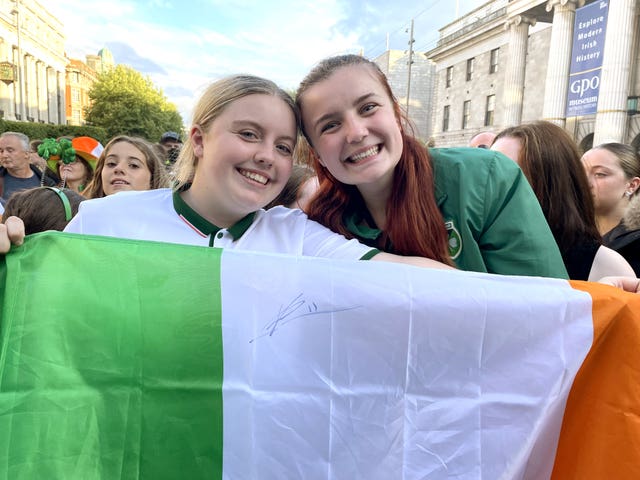 "They went and they did it and that's the most important thing," Kelly said, adding they did not care that Ireland did not win a match.
"We love them. If they win or lose, we're so proud of them," she added.
Friends Ava, 11, and Brooke, 12, from Ballyfermot in Dublin, had been at the barriers on O'Connell Street two hours before the event kicked off.
They said they were very proud of the team, naming Louise Quinn and McCabe as their favourite players, and said they had been inspired by the performance.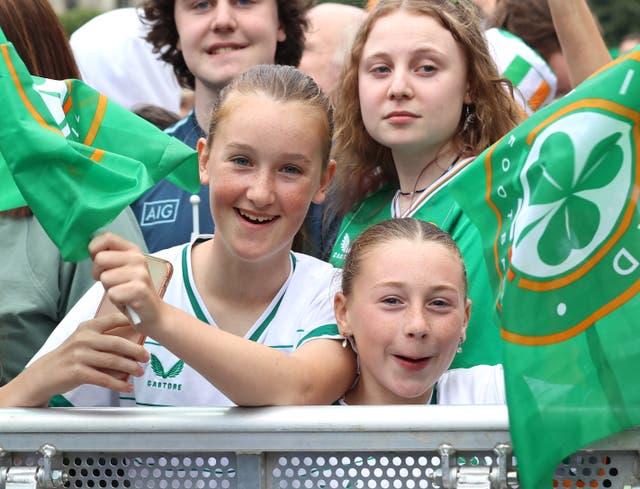 Nine-year-old footballers Ruby and Matilda, who are members of the first girls' team at Firhouse Carmel Football Club, seemed certain the World Cup effort will inspire other girls to get into football.
Ruby named McCabe, Abbie Larkin, Denise O'Sullivan as her favourite players, and said she enjoys the game because it's fun.
"I like Katie McCabe, and Denise O'Sullivan as well. The team were brilliant," Matilda said.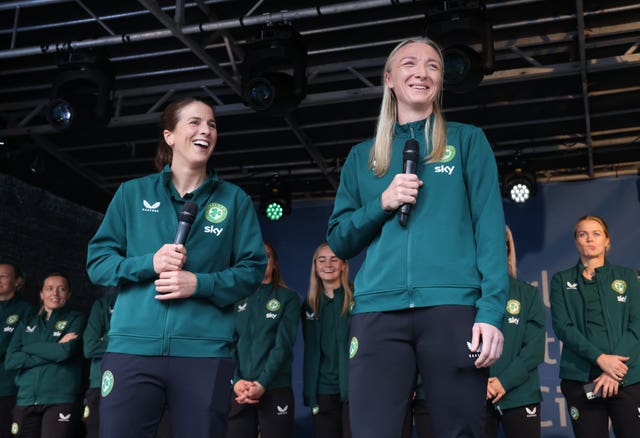 The Ireland team crashed out of the tournament after losing 1-0 to Australia and 2-1 to Canada, finishing with a nil-nil draw against Nigeria on Monday.
They left the competition having secured one point and one spectacular goal – a shot from a corner kick delivered by McCabe.
Asked about whether she had meant to score when she took the corner kick, McCabe said: "No, that was meant for Louise Quinn's head, to be fair. But I was delighted to see it go in."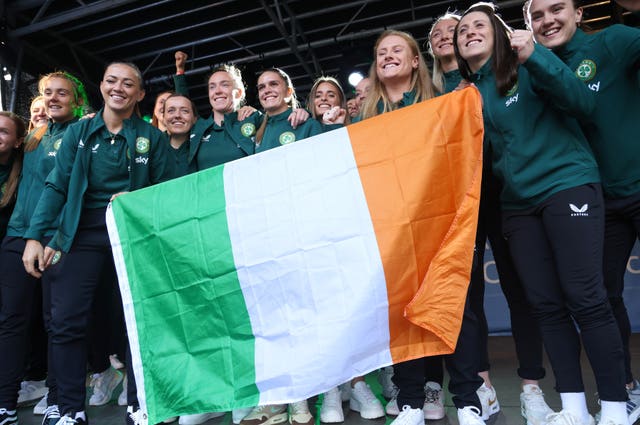 Goalkeeper Courtney Brosnan said: "I think it's amazing to be able to inspire young girls to achieve their dreams and especially to inspire that next generation of goalkeepers, it means a lot to me."
Pauw said her proudest moment was Ireland's draw against Nigeria: "They had just hammered Australia and these players took out the angle of that team, and watching (that) from the sidelines was such a moment of pride."
Pauw's contract is up for renewal and she has indicated that she would like to stay on in the role.