UK and Irish governments 'must halt summer drift over Stormont impasse'
The UK and Irish governments must act together to ensure the DUP does not head off on its summer holidays with Stormont powersharing still in limbo, a former Sinn Fein minister has warned.
Conor Murphy was commenting after meeting with Irish deputy premier Micheal Martin in Belfast.
The DUP is blocking the devolved institutions in Belfast in protest at post-Brexit trading arrangements, and the party has insisted it will not return to Stormont until it secures further legislative assurances from the UK Government around sovereignty and trade.
Senior civil servants are currently running public services in the region in the ongoing absence of devolution.
They have estimated that Stormont departments need hundreds of millions of pounds in extra funding to maintain public services at their current level this year.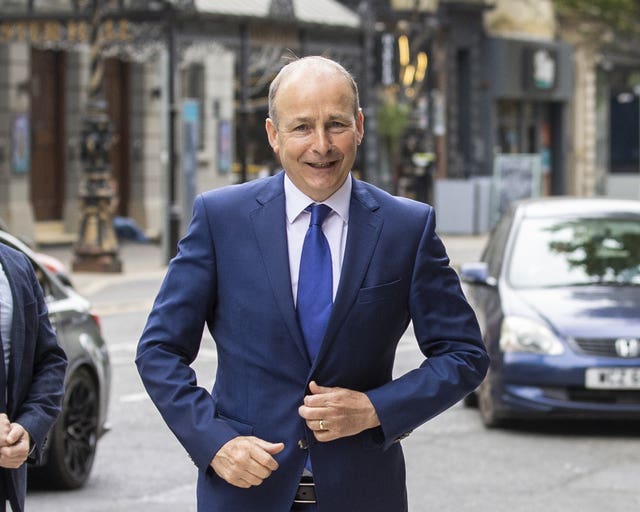 Hundreds of millions more would be needed to settle a series of public sector pay disputes in the region.
Tanaiste Mr Martin held face-to-face meetings with Sinn Fein, the Alliance Party and Ulster Unionists in a Belfast hotel while phone call discussions were scheduled with the DUP and SDLP.
After meeting Mr Martin, former Sinn Fein finance minister Mr Murphy said the impasse could not be allowed to drift into the autumn.
"No-one has any idea on if or when the DUP are going to come back into an executive and allow us collectively to begin to tackle the major issues of damage that has been done to our public services on a daily basis," he said.
"So, we're encouraging both the Tanaiste, and indeed the Secretary of State (Chris Heaton-Harris) when we met him, that both governments need to be acting together as co-guarantors of the Good Friday Agreement. They're not spectators in all of this, they're not political commentators in all of this, they are co-guarantors and they cannot allow this drift to continue."
He added: "The idea that we can somehow sit on our hands and the DUP can sail through July 12 and then go off on their holidays while they're being paid to work with the rest of us to try and get solutions to these problems, it's just not acceptable to us.
"And we've told both governments when we've met them: it's not acceptable. It should not be acceptable to them either. We're in a crisis here and now and we can't afford for drift to continue on."
Alliance MLA Andrew Muir warned that public services and communities in Northern Ireland are facing a "perfect storm" as the region's mounting financial problems are compounded by the ongoing Stormont impasse.
"What public services, communities and families are enduring is a perfect storm," Mr Muir said after meeting the Tanaiste.
"The forecast ahead is quite serious, so time is not on our side here for the restoration of devolution.
"Time is running out for that. We have a developing situation in relation to public services in terms of a £1 billion overspend.
"We made it very clear that there's a need for the DUP to get back into government, but also for reform of the institutions, so we can stop this constant cycle of crisis and collapse."
Mr Muir said the other Stormont parties are in the dark over when the DUP intends to return to powersharing.
"Some people are talking about, 'we could be back in September'. Do you know what the reality is? I don't know. Because the DUP won't tell us, they don't tell us what we're waiting for," he said.
"They need to be honest with the public. What are they asking for? What do they want? Do they want more people to face the situation that is unfolding here? What exactly are we waiting for?
"Because using people as leverage in Northern Ireland is disgraceful. And the impact of that is getting worse and worse and worse."
Mr Muir said cross-border investment was discussed with Mr Martin, including around the stalled A5 road upgrade.
Ulster Unionist leader Doug Beattie described his meeting with Mr Martin as a "catch-up" on the main issues at Stormont.
"We spoke about the public finances and the real difficult position that we have in regards to that," he said.
"And the Tanaiste was clear that the Irish government would still adhere to their commitments to help once the executive was up and running with things like the A5 and other infrastructure projects."