'Vast potential' for pod-style accommodation to house people quicker – minister
Housing Minister Darragh O'Brien has said pod-style accommodation has "vast potential" to house people quicker.
The minister said three pilot projects – one in Collins Barracks – would be fast, "good quality" accommodation that would be easier to find sites for compared with modular housing.
He made the comments as the government has been coming under pressure over housing as hundreds of asylum seekers sleep in tents due to no State accommodation being available.
The government has blamed years of underinvestment in the severe shortage of housing, and said the affordability of rents and house prices is best tackled by addressing the supply issue.
Speaking to reporters on Friday, Mr O'Brien said government had made a decision to implement "meaningful and effective measures" in the next Budget to retain and attract new landlords.
"We need a functioning private rental sector, and it hasn't been functioning for a long number of years as it should do," he said.
He was speaking as he opened 28 new social homes in Swords in north Dublin, to be managed by the Iveagh Trust.
The chair of the Iveagh Trust, Rory Guinness, presented Mr O'Brien with an heirloom of the family to cut the ribbon – a sword businessman Edward Cecil Guinness wore to a party in Iveagh House in 1890.
"As a throwback to the 1890s, we have a bit of a surprise – a sword in Swords," Mr Guinness said.
"What could be more appropriate a way to open this development than for the Minister to cut the ribbon with a sword?"
Speaking to reporters after the opening, Mr O'Brien said that Cabinet believes pod-style accommodation offered "real potential".
"I think there's a real opportunity with the pods to get that moving quicker," he said on Friday.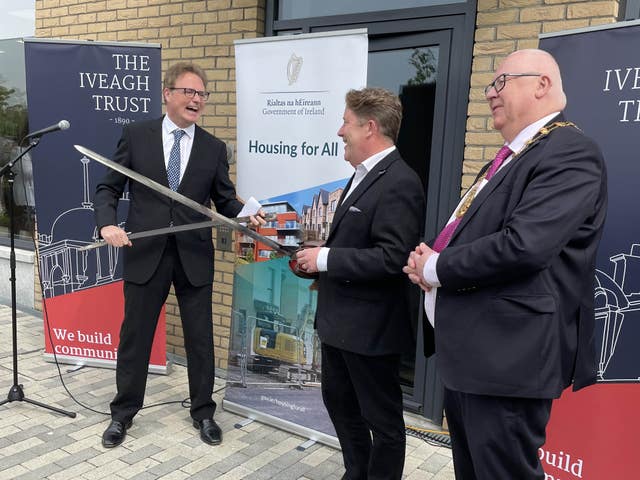 "There's three sites identified – Collins Barracks being one of them, that construction is under way – they'll be used as kind of exemplar sites and example sites. And I think there's vast potential there. They're really good quality."
He said that the pod-style accommodation is different from the rapid-build modular homes the government are offering, and that it would be easier to find suitable sites to place them.
"Actually, the local authorities, under my direction, identified the sites (for modular homes). That work is under way, we'll have 750 modular homes through the Office of Public Works (OPW).
"I think that that can potentially provide accommodation quicker, is more open to maybe more difficult sites like brownfield sites as well.
"Some of the modular (homes), there's certain topographies of sites that are needed to get that in, so difficult sites can make that harder.
"But I believe and Cabinet believe there's real potential in the pods and I would like to provide them at scale, in addition to what we're doing about refurbishing."
When asked how widespread they would be, Mr O'Brien said "at scale is at scale".
"(I'm) not going to put a number on it yet, but I want to see it scaled up and scaled up quickly, and scaled up means initially in the hundreds, and to build on it from there.
"It is important they're designed properly, you're not just dropping them into a field, you need to have all the other siteworks done as well."