Grappling with smartphones is one of biggest issues teachers face – Keegan
Grappling with smartphones is one of the "biggest issues" facing teachers, the Education Secretary said as she pushed for devices to be banned in schools.
Gillian Keegan said the Government will update its guidance to urge state schools across England to ban mobile phones throughout the school day in a bid to improve distraction, disruption and bullying among pupils.
The Department for Education (DfE) said the guidance will back headteachers in banning mobile phone use during class and break times.
Some education unions have suggested a blanket ban on pupils using mobile phones is "unenforceable" and may cause "more problems".
In England, it is currently up to individual school leaders to decide their own policies on mobile phones and whether they should be banned.
The Government will consider legislating in the future to make the guidance statutory if schools fail to implement the new guidance, the DfE has said.
Addressing the Conservative Party conference on Monday afternoon, Ms Keegan said: "Today, one of the biggest issues facing children and teachers is grappling with the impact of smartphones in our schools.
"The distraction, the disruption, the bullying. We know that teachers are struggling with their impact and we know that they need support.
"So, today we are recognising the amazing work that many schools have done in banning mobile phones and we are announcing that we will change guidance so that all schools will follow their lead."
Patrick Roach, general secretary of the NASUWT teaching union, said: "If the Government introduces blanket bans that are unenforceable, this will make the behaviour crisis worse, not better."
A recent survey by the NASUWT of its members in the UK on behaviour suggested that teachers' biggest concerns were verbal and physical abuse.
The majority of teachers surveyed suggested poor social skills following Covid-19 restrictions had affected pupil behaviour – and a smaller number of teachers reported mobile phones caused behavioural issues in class.
Dr Roach added: "This behaviour crisis has become embedded on this Government's watch. The lack of joined-up solutions, multi-agency working and properly-resourced behaviour support are just some of the systemic factors making a challenging situation worse."
Paul Whiteman, general secretary of school leaders' union NAHT, said they were concerned a blanket ban would not work "for all schools".
He said: "Unfortunately, a ban on mobile phones in school can cause more problems than it solves, leading to pupils becoming more secretive about their phone use, meaning problems are hidden from staff and therefore more difficult to spot and address."
Mr Whiteman added: "Most young people won't just stop bringing their phones to school, and there could be parental opposition too, as there are practical reasons why pupils may need a mobile phone such as while travelling to and from school."
Kirsty McHugh, chief executive of the Carers Trust, has called for young carers to be exempt from a ban on mobile phones as it will make it "impossible" to stay in touch with family members they look after.
She added that these young people often rely on their phones to find out if something has gone wrong at home, to hear how medical tests have gone, or to check in on unwell parents during breaks.
Ms McHugh said: "Where there are schools with complete bans already, we have heard from young carers who resorted to hiding in toilet cubicles to have sensitive and sometimes upsetting conversations with their family."
The guidance will set out limited exemptions where necessary – for example, where children require their phones for medical reasons, the DfE said.
Tom Bennett, school behaviour adviser, said: "This is a fantastic move forward for ensuring that students are able to work, learn and grow in a place free from the distracting influence of mobile phones.
"Heads should now be reassured that their efforts to keep schools mobile-free will be backed by the DfE. This is a positive and progressive step forward."
A report from the United Nations (UN) in July highlighted data which suggested that "mere proximity" to a mobile device can distract students and have a negative impact on their learning.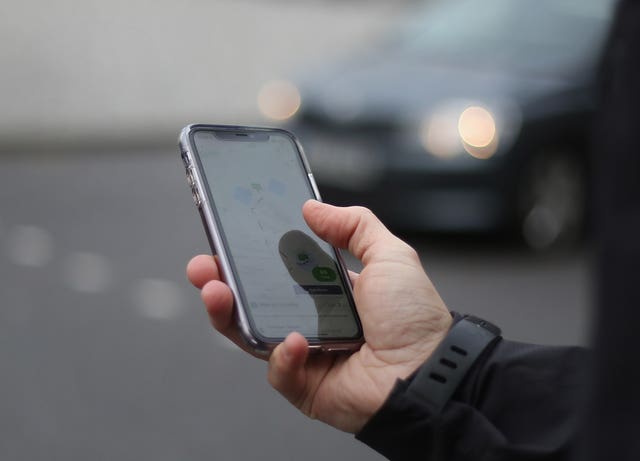 In 2021, then education secretary Gavin Williamson said he wanted a ban on mobile phones in classrooms, describing them as "not just distracting" but also potentially "damaging" when misused.
Revised Government guidance on behaviour in schools – issued by the DfE in 2022 – said it was up to heads to decide "if mobile phones can be used during the school day".
In July, the Dutch government announced that mobile phones, tablets and smartwatches would be largely banned from classrooms in the Netherlands in 2024 in a bid to limit distractions during lessons.
It comes after France banned pupils from using mobile phones in primary and middle schools in 2018.
During her speech to party members, Ms Keegan said it was "common sense" that parents should be able to see what their children are being taught in schools and that "girls should have separate toilets from boys".
Her comments came as schools are still waiting for ministers to publish long-awaited guidance on issues relating to transgender pupils.
In March, Prime Minister Rishi Sunak announced a review into relationships, sex and health education (RSHE) after concerns that schoolchildren were being exposed to "inappropriate" content.
The DfE has said the updated guidance on sex education is due to be published for consultation "in the autumn term".