Google makes bid to throw out High Court claim over NHS medical record transfer
Google has made a bid to throw out a High Court claim brought on behalf of around 1.6 million people about the transfer of their medical records by an NHS trust.
The software giant and its artificial intelligence arm DeepMind are facing legal action over the transfer of patient data by the Royal Free NHS Foundation Trust in October 2015.
The records were transferred by the trust for use in the developing of a mobile app called Streams – which would analyse patient data and alert doctors if they were at risk of developing or had developed an acute kidney injury, a serious condition that can be fatal.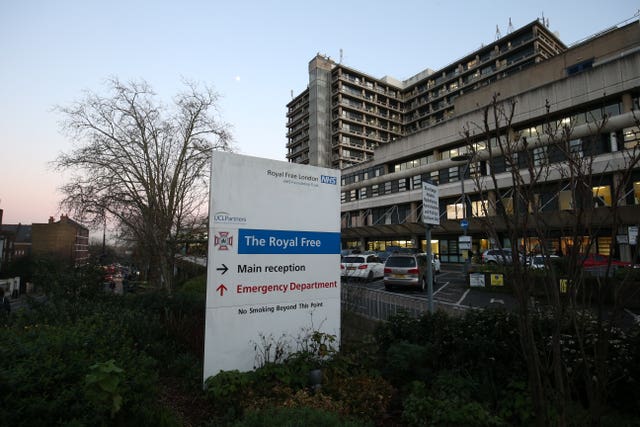 Andrew Prismall, who was treated at the Royal Free, is bringing the claim for damages on behalf of the patients who had their data transferred, alleging it was a misuse of private information.
However, lawyers for Google and DeepMind have said the claim is "bound to fail" and on Tuesday asked the High Court in London to strike out the claim or grant a ruling in their favour without a trial.
Timothy Pitt-Payne KC, for Mr Prismall, said the records transferred were not anonymised in any way and the data was shared without patients' knowledge or consent, or without a chance to opt-out.
In written submissions, the barrister said: "Medical records were transferred to the defendants en masse without any evidence of consideration of whether the individual data subjects were even still alive."
He said that according to a witness for Google and DeepMind, only 200 to 300 patients were being treated by the Royal Free's renal team during the time of the app's testing.
"Despite this small number, the Streams system had already been loaded with approximately 1.6 million or more patients' medical records regardless of whether they were of any relevance at all to nephrology," Mr Pitt-Payne continued.
The barrister also said the patients whose data was transferred had a reasonable expectation of privacy and that "unless a patient's express consent was first obtained, such information would only be shared for the purposes of the direct care of the patient".
However, Antony White KC, for Google and DeepMind, said there was "no real prospect" of Mr Prismall's claim on behalf of the large group succeeding.
In written submissions, the barrister said: "The clinicians did not access any patient data which they would not in any event have accessed in their normal practice while delivering direct care to those patients."
He said that all the people represented in the group must have "the same interest" in the claim, but that there was a big variation in the nature and quantity of the data sent to the system.
This ranged from people who attended accident and emergency at one of the trust's hospitals but did not see a doctor, to those who regularly attended for kidney treatment, the court was told.
The barrister later said that there had been approximately 52,000 occasions where the Streams app told doctors that a patient was at risk of developing or had developed an acute kidney injury.
Mr White continued in written arguments: "It cannot sensibly be suggested that an individual who received significantly beneficial, perhaps even life-saving, direct care from clinicians at the Royal Free as a result of an alert generated by the processing of their information within Streams suffered any harm."
The hearing before Mrs Justice Heather Williams is due to conclude on Wednesday with a decision expected at a later date.