Scientists have captured the mesmerising dance of chromosomes inside our cells
Scientists have, for the first time, figured out how chromosomes – the thread-like structures found in the nucleus – move inside living cells.
Their aim was to find out how DNA – the carrier of genetic information – gets packed into a very small space without getting tangled.
Using computer modelling, the researchers at the University of Texas in Austin discovered chromosomes moved in a "sluggish and glass-like" way, "differing from one cell type to the next and even among cells of the same type".
They describe it as a "complicated ballet being performed in our cells".
According to the team, knowing more about the mechanism by which chromosomes move within cells could help understand how they play a role in human health and contribute to the study of genetic diseases.
There are six billion base pairs of DNA packed into 23 pairs of human chromosomes.
The research team examined two different human chromosomes – 5 and 10.
The video created by The University of Texas shows chromosome 5 just after replication – which is a part of the process of cell division – pulling itself together and collapsing into a tight ball.
Dave Thirumalai, a biophysicist at The University of Texas at Austin, said: "Rather than the structure, we chose to look at the dynamics to figure out not only how this huge amount of genetic information is packaged, but also how the various loci move.
"We learned it is not just the genetic code you have to worry about. If the timing of the movement is off, you could end up with functional aberrations."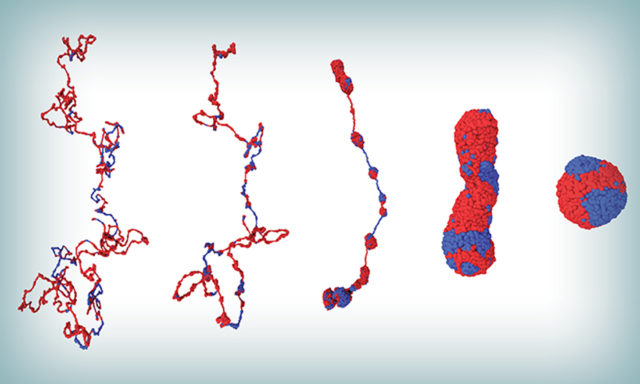 Genes found on chromosome 5 are associated with some forms of leukaemia, Parkinson's disease and aspects of male infertility.
The researchers said it was clear from the model the movement of each chromosome depended on individual cells. Depending on where they are positioned, the chromosomes can move at different speeds.
Guang Shi, lead author and graduate student at the University of Maryland, says certain aspects of chromosome behaviour, like for example, how long it takes for them to meet, when they meet and how long they remain in contact, could improve the understanding of certain diseases.
The research has been published in the journal Nature Communications.