Road greenhouse gases and air pollution action could 'create a huge hole in tax receipts'
Urgent action is needed to tackle both greenhouse gases and air pollution from road transport – but it could leave a multibillion-pound hole in annual tax receipts, a report warns.
While other areas of the economy have managed to reduce carbon dioxide output, road transport emissions have increased by 1% since 1990, while London and 74 other cities and areas have illegal levels of harmful nitrogen dioxide pollution.
Ministers need to develop a new cross-departmental strategy on road transport to deliver emissions cuts required by UK climate laws, and to address air pollution, much of which comes from diesel, the report from think tank Policy Exchange said.
Options include new technology such as electric or hydrogen vehicles, making conventional vehicles more efficient and encouraging people to take public transport.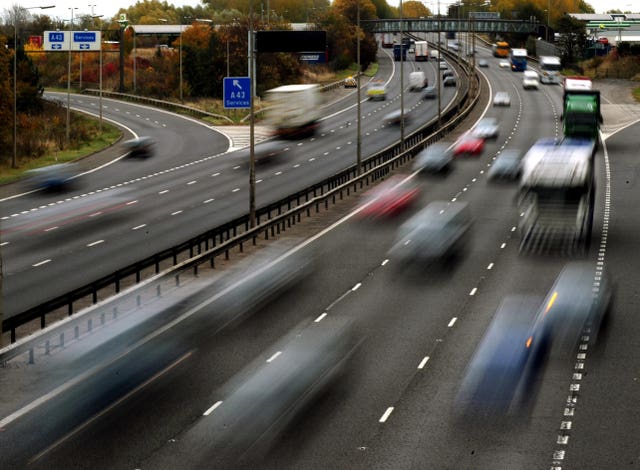 But the think tank also adds that the Government needs to recognise the financial implications of cleaning up road transport, as reductions in fossil fuel use to power cars, vans and lorries would see fuel duty and road tax payments fall.
While the Office for Budgetary Responsibility suggests fuel duty receipts could rise from the current £28 billion a year to £40 billion by 2030, the report said if the UK meets its targets to cut carbon tax receipts could be £17 billion to £31 billion in 2030.
This would leave a £9 billion to £23 billion hole in expected tax receipts, and could mean the tax take from road use is equal to or less than the cost of maintaining the road network by the 2030s.
In the long term, the Government should consider moving from the current system of taxing fossil fuels and carbon emissions to a system of road user charging such as toll roads or city congestion charges, Policy Exchange said.
The report also recommends that motorists who bought diesel vehicles in good faith – when they were being promoted as a more efficient, cleaner alternative to petrol to tackle carbon – should not be penalised.
And electric vehicle infrastructure needs to be "smart" and able to control charging, to minimise the impact it could have on the power system, the report recommends.
Richard Howard, Policy Exchange's head of energy and environment and lead author of the report, said: "The new Government needs to take more assertive action to address the twin problems of carbon emissions and air pollution from road use.
"As it stands, there is no overarching Government strategy to deliver the required reduction in greenhouse gas emissions, and the latest plan to reduce nitrogen oxide emissions is inadequate."