Scientists have developed colour-changing tattoo inks that can track your blood sugar levels
Scientists have developed a set of unique tattoo inks that change colour in response to variations in bodily fluid.
The inks, created by researchers at MIT and Harvard Medical School, come embedded with tiny biosensors that turn the skin's surface into a colour display to inform the user of certain changes the body is experiencing – like, for example, increases in salt or sugar levels.
Called the Dermal Abyss project, the scientists say their research is at proof-of-concept stage and that there "are currently no plans to develop Dermal Abyss as a product or to pursue clinical trials".
So far, the researchers have created three different inks that shift colour in response to changes in interstitial fluid – the liquid that surrounds the cells of our tissues.
The blue ink changes to brown as it measures blood sugar rises in the body – and the scientists say it could be used to measure glucose levels – while the pink ink gradually transforms to purple as it tracks the pH levels in the interstitial fluid.
Their third sensor, meanwhile, detects sodium levels by glowing a vibrant green hue under UV light.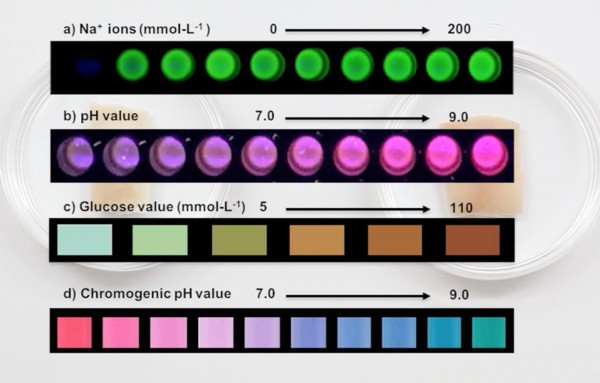 A glucose-sensing tattoo could prove useful to people with diabetes, who currently have to rely on pin-prick blood tests to keep track of their glucose levels.
"The Dermal Abyss creates a direct access to the compartments in the body and reflects inner metabolic processes in a shape of a tattoo," the scientists wrote in a blog post.
"It blends advances in biotechnology with traditional methods in tattoo artistry.
"It could be used for applications in continuously monitoring such as medical diagnostics, quantified self, and data encoding in the body."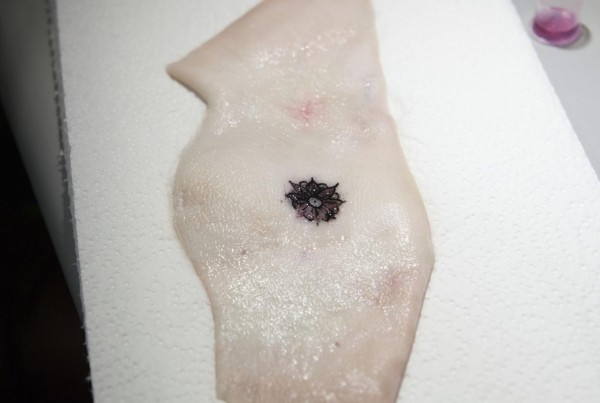 The researchers tested the inks by injecting them on pig skin.
"Several injections in the skin were done in order to understand the visibility and functionality of the biosensors," they wrote.
The research isn't currently published anywhere but the scientists will be be presenting their findings at the 2017 International Symposium on Wearable Computers in September.