Barbie overtakes Top Gun: Maverick as it races up all-time box office chart
Barbie's domination of cinemas shows no sign of flagging, with box office takings in the UK and Ireland surging past the total for last year's biggest film, Top Gun: Maverick, new figures show.
The fantasy comedy, which stars Margot Robbie as the world-famous Mattel fashion doll, has grossed a mammoth £84.8 million in its first five weeks on release.
It is far and away the most popular film of 2023 so far – and is now racing up the chart of the highest grossing movies of all time.
Barbie is currently sitting just outside the top 25, behind Disney's 2017 remake of Beauty And The Beast (£86.9 million), Daniel Craig's debut as James Bond in 2006's Casino Royale (£87.2 million) and the 1978 star-studded musical Grease (£88.0 million).
The figures have been prepared for the PA news agency by the British Film Institute (BFI) and are based on inflation-adjusted box office takings for all films released since data began in 1975.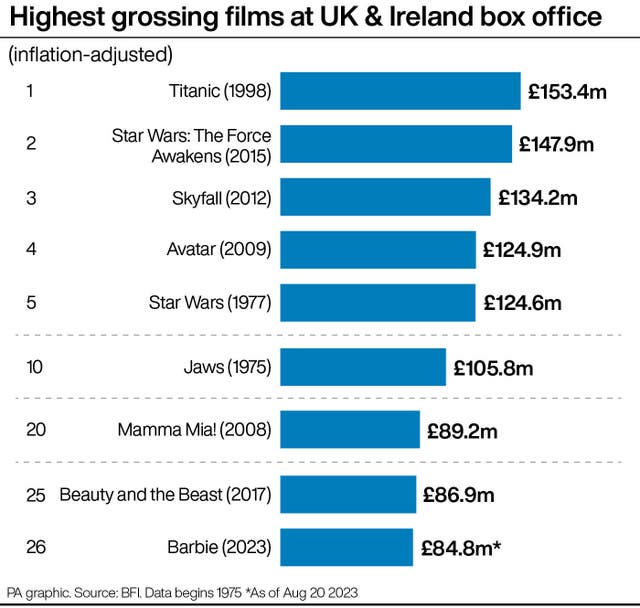 The speed with which Barbie has shot up the chart is remarkable.
In its five weeks on release, the movie has grossed more at the UK and Ireland box office to outrank not just 2022's Top Gun: Maverick (£83.7 million), but other recent smash hits including 2016's Rogue One: A Star Wars Story (£79.1 million), 2018's Avengers: Infinity War (£77.9 million) and 2022's Avatar: The Way Of Water (£77.2 million).
It has also leapfrogged older blockbusters such as E.T. The Extra-Terrestrial, first released in 1982 (£75.9 million in today's prices); Toy Story 2, released in 2000 (£73.5 million); and the 1977 James Bond film The Spy Who Loved Me (£67.3 million).
Box office data for the UK and Ireland is counted together for the purposes of reporting.
Read More :
Barbie's takings fell by 39% between its fourth and fifth weekends on release, but the film has already shown enough momentum at the box office to guarantee its overall earnings will rise higher in future weeks.
If it makes at least £89.3 million, which seems likely, it will enter the all-time top 20.
But to reach the top 10, Barbie would need to take at least £105.9 million – enough to overtake the title currently in tenth place, 1975's Jaws (£105.8 million).
The all-time highest grossing film in the UK and Ireland is 1998's Titanic, which to date has made £153.4 million, when adjusted for inflation to today's prices.
Meanwhile, Oppenheimer, the other big-screen hit of this summer, is continuing to pull in audiences.
The film, which stars Cillian Murphy as the eponymous American physicist, who played a key role in developing the atomic bomb, has now taken £50.1 million in the UK and Ireland.
It is now in third place in this year's box office chart, close behind The Super Mario Bros Movie (£54.6 million).