Stage backdrop designs drawn by Sir Paul McCartney unveiled at museum
Sketches of stage backdrop designs drawn by Sir Paul McCartney have gone on show at a Beatles museum.
A piece of paper featuring 11 sketches of stage backdrop designs for Brian Epstein's Saville Theatre in London was donated to the Liverpool Beatles Museum by an anonymous benefactor, who bought it at auction for £25,000.
Museum owner Roag Best said: "These have never been seen in public before.
"We were contacted by the owner, who wants to remain anonymous, who said he'd had the pleasure of these designs on his wall for two years and wanted other people to be able to share in it.
"He is a collector and had spotted this at auction with a reserve of £3,000 but ended up paying £25,000.
"This is a total one-off and I think Beatles fans and art connoisseurs will love to see it."
Mr Best said Sir Paul was invited to come up with the designs in 1966 by the group's manager Brian Epstein, who leased the Saville Theatre and put on concerts there by artists including the Bee Gees, The Jimi Hendrix Experience and Chuck Berry.
One of his designs, featuring stars and stripes, was used as the backdrop for Motown group the Four Tops' performance.
The designs are annotated and include one with "slow moving machinery" and another with an upside down house and the note "this way up".
One of the designs has the handwritten description: "This piece of the set falls on the stage, revealing red curtains through which performers emerge, smiling."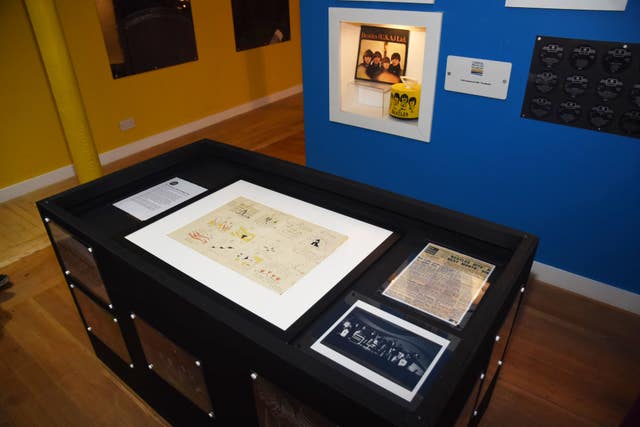 A sketch appearing to show glasses and moustaches on the backdrop has the note: "Plain comedy set. Comedian enters through mouth, not smiling, crawling."
Another shows 12 mirrors for the audience to glimpse themselves in.
Liverpool artist Anthony Brown, who unveiled the item at the Mathew Street museum on Thursday, said: "I've seen Sir Paul's work before and it just, to me, makes absolute perfect sense that he would do something like that.
"I think the designs are good; some are more complicated than others.
"I think the most perfect one is the one they used for the backdrop for the Four Tops."