Florence Pugh debuts dramatic new Valentino campaign
Florence Pugh has been announced as the new face of luxury Italian fashion brand Valentino.
The 27-year-old actor, known for her roles in films Midsommar, Little Women and most recently A Good Person, stars in a new campaign for the fashion brand, dubbed on Instagram as An Encyclopaedia Of Feelings.
In the campaign video, Pugh poses with a hot pink Valentino Garavani Rockstud23 bag, cycling through a range of emotions – including anger, surprise and happiness.
The video ends with Pugh saying the new Rockstud slogan: "I mean… It's Rockstud!"
On Instagram, Valentino said creative director Pierpaolo Piccioli chose Pugh to be the new brand ambassador because she's "known for her authenticity, vulnerability and fearless self-expression, both on-camera and off".
The bag retails at £1,950 and is in Valentino's signature fuchsia hue, first debuted at the brand's autumn/winter 2023 fashion collection.
Pugh is the new Valentino DI.VA, which stands for "DI.fferent VA.lues", joining the likes of racing driver Lewis Hamilton and Euphoria actor Zendaya.
Zendaya was recently announced as the new face of rival luxury brand Louis Vuitton, suggesting her contract with Valentino has come to an end.
The partnership between Pugh and Valentino makes sense, as it is the actor's go-to brand for the red carpet.
Some of her most memorable looks include the black and silver gown with shorts underneath, worn to the Venice Film Festival in 2022; the couture outfit worn to the 2023 Vanity Fair Oscar party – made up of black trousers, a black bra and a voluminous pale pink coat – and the sheer pink gown worn to a Valentino fashion show in July last year, which stirred up controversy for its see-through top.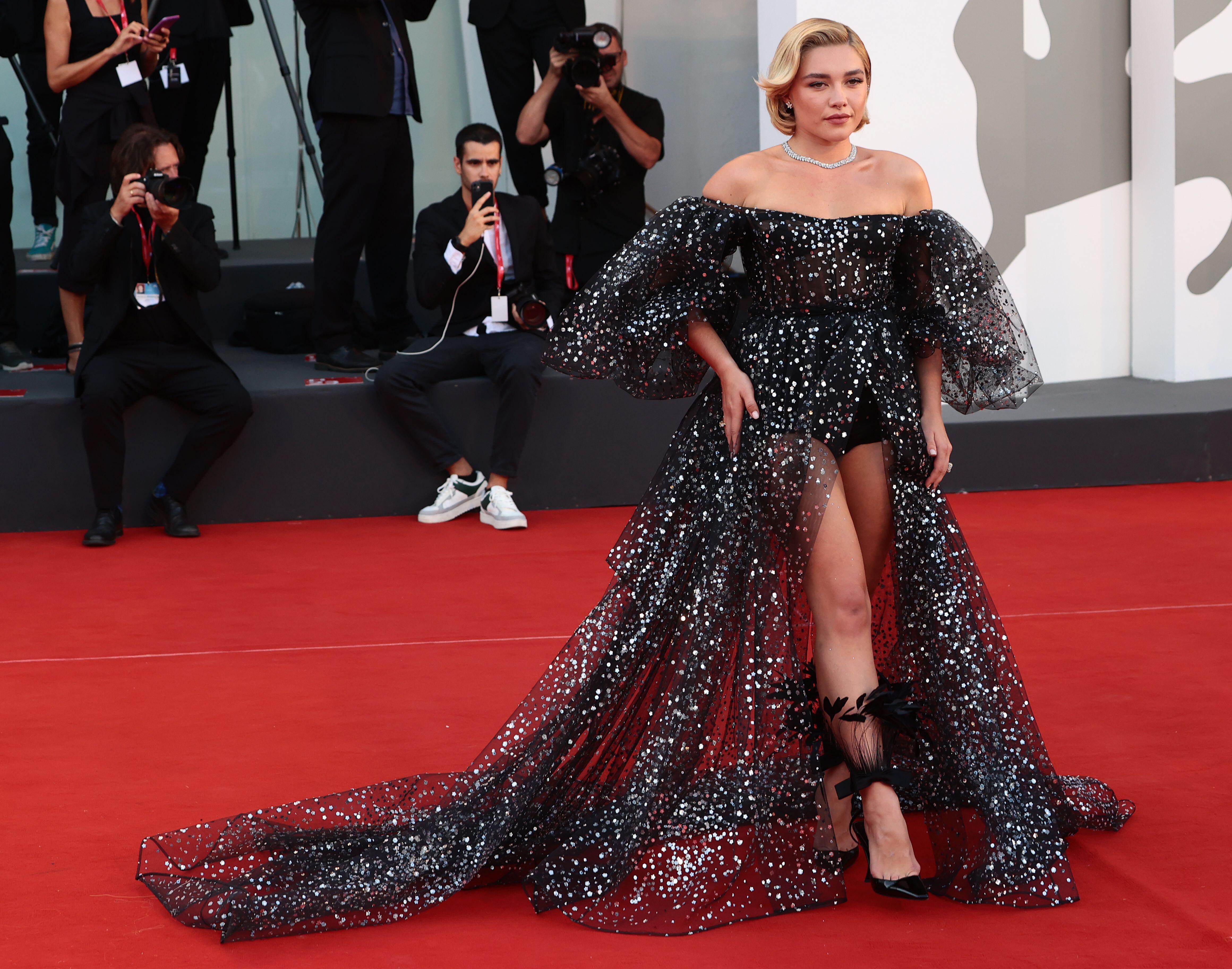 To mark the new partnership, Pugh and Valentino's creative director Piccioli did an interview with the New York Times.
"I always felt like I'd be very nervous about a fashion or beauty campaign because what if it's not me?" Pugh said.
"So many times I've had to stand up about the way people talk about my body or the way people have tried to change my body.
"Here, I was allowed to show a version of myself doing all of my faces, not sell a version of someone to help sell the products."
Pugh also revealed she would be attending her first Met Gala next Monday, wearing a Valentino outfit, which she described as "big, but we like big, don't we?"