Great British Bake Off judge praises coronation quiche for avoiding soggy bottom
The Great British Bake Off judge Dame Prue Leith has given her stamp of approval to the coronation quiche, judging the dish to be "absolutely delicious".
The chef and TV presenter became one of the first people to try the official coronation pastry at a special Big Lunch at Westminster Abbey on Tuesday, attended by faith leaders from across the country.
Hosted by the Dean of Westminster, the outdoor event was organised to inspire people to organise their own celebratory events, showing how food can bring together people of all faiths and backgrounds.
Tens of thousands of street parties are expected to be held during the coronation weekend, with people encouraged to come together across the country for the Coronation Big Lunch on Sunday May 7.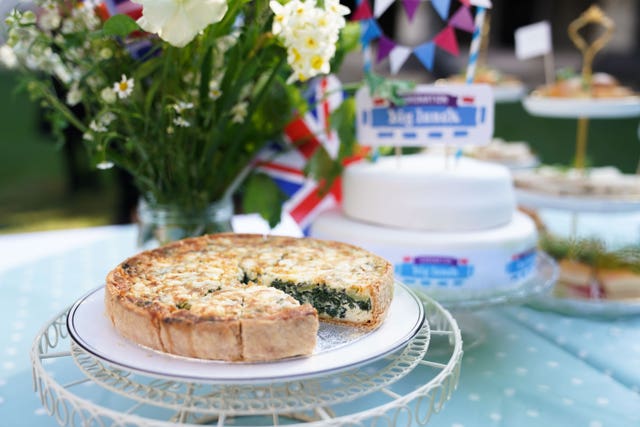 The coronation quiche, made with spinach, broad bean and tarragon, had been baked in the Buckingham Palace kitchen and was transported by the Duke of Edinburgh to the Abbey to share with faith leaders.
A Big Lunch ambassador, Dame Prue, 83, praised the dish for being "seasonal".
She told the PA news agency: "The quiche was absolutely delicious.
"There was no soggy bottom, the custard was not overcooked and dry, and the balance of tarragon was perfect – a really good quiche.
"Quiche is universal. Even cold, if the ingredients are right and the pastry is nice and buttery, it will taste great.
"I remember when quiche Lorraine was something very special 60 years ago. It is still one of the best pastries to make."
The quiche recipe was chosen by the King and Queen Consort because it works as a sharing dish, can be served hot or cold, suits a wide range of dietary requirements and can be easily adapted to suit different tastes.
The palace also said it tasted delicious and had the benefit of not being too complicated nor requiring costly or hard-to-source ingredients.
As the Duke of Edinburgh cut Dame Prue a slice of the quiche, he joked: "We're not going to do a bake off".
She replied: "It better taste as good as it sounds."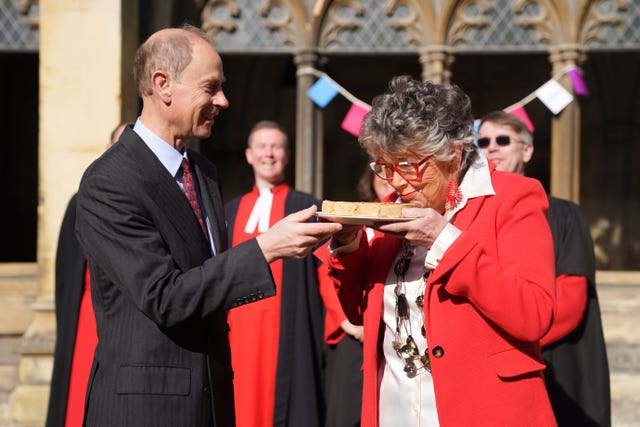 After sitting down for lunch with faith leaders from across the UK, Dame Prue hailed the ability of food to bring communities together.
"Food is not just about nutrition," she said.
"It's the glue that sticks families together, it is how you make friends, and it's the thing that allows you to talk to each other."
She praised the variety of cuisines that are available in Britain and said not being a good cook should not be an obstacle to organising a Big Lunch celebration.
"If you remember what happened at the Queen's Jubilee, people really were out in the streets and there were tables full of every kind of national dish you could think of. That's what Britain's supposed to be about.
"The whole point of this lunch is community and talking to other people. If cooking stresses you out, don't do it. You can always walk around the supermarket and collect lots of delicious things."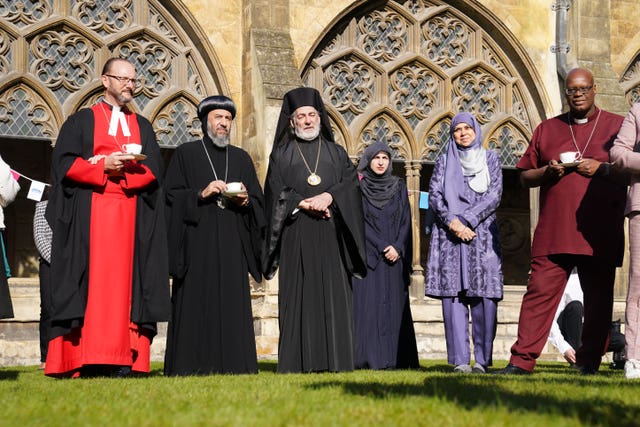 Dame Prue said her own coronation plans involve cooking a salmon wrapped in puff pastry and shaped "like the King's head on a stamp".
Dean of Westminster Dr David Hoyle said he hopes events like the Big Lunch and the coronation celebrations can help to "bridge" differences in our "divided society".
He said: "At the moment we're quite good at noticing our differences and shouting about them.
"We are a divided society. We need moments like this to remind us of that feeling of affection, that feeling that we can enjoy one another's company.
"The coronation is a moment when nations and Commonwealth can celebrate a shared history and imagine what renewed loyalties might achieve. It is a moment of celebration, but it is also a time to focus on the bonds of affection that bridge all difference."
Dr Hoyle described the coronation as a "turning point in our national life" and "one of those moments when you step onto the stage of history".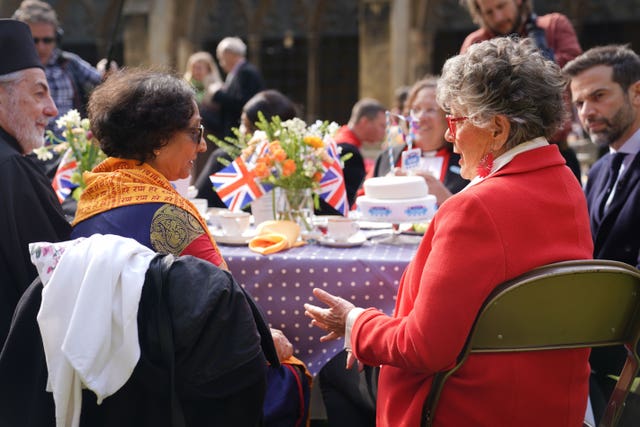 As for his personal plans for the day of the coronation on May 6, he said: "I promise you there'll be a party in the evening."
The Archbishop of Canterbury Justin Welby, who attended the lunch, said: "When we share a meal, we see how much we have in common with others.
"The diversity of our country – with all its different cultures and religious communities – is one of our great strengths. So, my sincere wish is that everyone will enjoy the Coronation Big Lunch: have fun, relax, celebrate, reach out to your neighbours and make new friends."
The Big Lunch is a community celebration run by the Eden Project and funded by the National Lottery. It takes place annually in June, but has been moved to May this year to coincide with the coronation.
Sir Tim Smit, co-founder of the Eden Project, said: "In Britain we're always quite reserved, and we confuse our reserve for being hostile. But in fact, under the surface most people are really nice.
"Community isn't dead, just under the surface. Most people are good. And what they want are excuses to come together. Events like the Big Lunch are simply an excuse for us to bring out the best of what's already there."