Gwyneth Paltrow should not be made to pay 'ransom' over ski crash, court told
Gwyneth Paltrow should not be made to pay a three-million-dollar "ransom" for a "meritless claim" over a skiing collision seven years ago, a US court has heard.
The Oscar-winning actress had shown "courage" by attending court for the two-week trial where she had become a "punching bag", jurors were told
Ms Paltrow is accused of "slamming" into retired optometrist Terry Sanderson, leaving him with several broken ribs and severe brain injuries.
She has denied the claims, alleging that Mr Sanderson crashed into her at the Deer Valley resort in Utah, and caused her to lose "half a day of skiing".
Closing arguments took place in front of a packed courtroom on Thursday, as the high-profile trial drew to a close, with lawyers for Mr Sanderson suggesting he be paid damages of more than three million US dollars (£2.4 million).
Stephen Owens, representing Gwyneth Paltrow, said the actress had sat in court for two weeks as a "punching bag" and had been "uncomfortable" during proceedings.
"It takes a lot of courage does it not?" he told the jury in his own closing argument.
"(Mr Sanderson's) life has been laid open – that's because of him. He hit her. He hurt her and he wants three million dollars for it.
"That's not fair. The easy thing for my client would have been to write a cheque and be done with it – but what does that tell her kids?"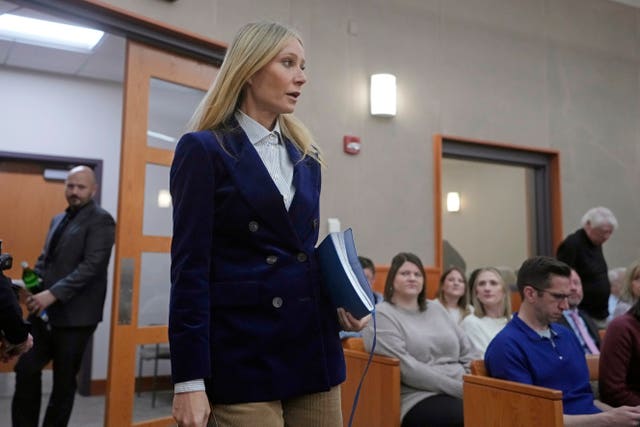 "It's wrong, it's actually wrong that he hurt her and he wants money from her."
Describing Ms Paltrow's reaction to the crash at the time, Mr Owens said: "Gwyneth is pissed off.
"If you hit someone do you yell at the person you just hit? No. The hittee – is usually the unhappy one."
He added: "This is a meritless claim.
"You don't throw a three-million-dollar bombshell in the courtroom, call her (Gwyneth Paltrow) King Kong, and walk away. You shouldn't reward that.
"Gwyneth, who could have just paid it out, paid the ransom, (said) 'no I'm not doing that. I'm not going to have someone hurt me and then ask me for a lot of money. I'm not going to do it'."
Ms Paltrow has counter-sued Mr Sanderson for one dollar.
"We ask you for the dollar not because she had to go in and get an early massage, but because it screwed up a very carefully planned time in her life," Mr Owens said.
"We want our dollar."
Earlier, jurors heard from Mr Sanderson's legal team, who said that Ms Paltrow was "not a liar" but was wrong about what she believes happened during the incident seven years ago.
Robert Sykes told jurors that the actress's views on the collision were "sincerely expressed" but incorrect.
"Gwyneth Paltrow in this case is not a liar. Terry Sanderson is not a liar," he said.
"Gwyneth is a good person. She is a good mother and she loves her children and she is passionate about things.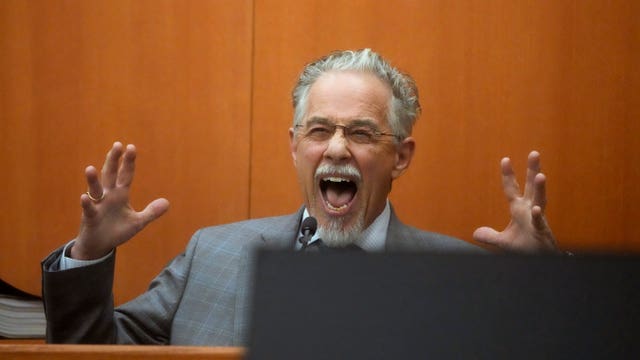 "I think that she believes, and I believe Gwyneth Paltrow when she says 'Terry hit me in the back' – it's a sincere belief but the problem is a sincere belief doesn't make it so."
Mr Sykes continued: "So often people that are in these types of events have totally different viewpoints.
"We don't hold anything against Gwyneth for her viewpoint – it's sincerely expressed, but she's wrong based on the evidence. And Terry is correct."
Mr Sykes added: "That day that Terry left his house to go skiing, he anticipated like many other days in his life, a fun day of skiing, and he never returned home that night as the same Terry. He never came home, figuratively speaking.
"Terry has tried to get off that mountain but he's really still there. Part of Terry will forever be (there).
"We hope you will help bring Terry home off that mountain with a fair verdict today."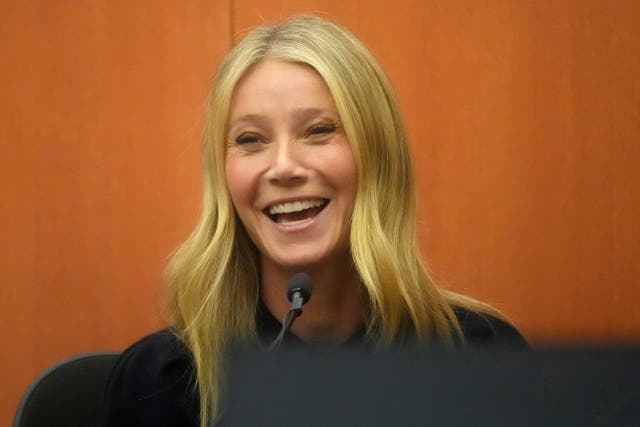 In his own remarks, James Egan, also representing the actress, said: "Ms Paltrow wants (Terry Sanderson) off the mountain too – but she does not want to be responsible for the cost."
Lawrence Buhler, representing Mr Sanderson, previously suggested that the jury award him damages totalling 3,276,000 US dollars (£2,645,861).
Writing on a board in court, Mr Buhler explained his working, saying: "Sixteen hours a day, times 365 days a year – Terry is likely to live another 10 years, though we hope he lives a lot longer – that's 17 years.
"Sixteen times 365, times 17, times – I'm going to say 33 dollars (£26). This equation is 3,276,000 dollars."
He added: "This case is not about celebrity, this is about a man's life."
In the past week, both Ms Paltrow and Mr Sanderson have entered the witness box to recount their version of events.
Throughout the trial jurors have also heard from a variety of medical experts, ski instructors, and members of both Mr Sanderson's and Ms Paltrow's families, including the actress's children, Apple and Moses Martin.
Jurors have now been sent to deliberate on their verdicts.