Sir Elton John and David Furnish have 'paternal' friendship with Harry
Sir Elton John and David Furnish have a "paternal and protective" friendship with the Duke of Sussex, the singer's husband has said.
The couple are part of a group – along with Harry, Baroness Doreen Lawrence, former Liberal Democrat MP Sir Simon Hughes and actresses Sadie Frost and Liz Hurley – bringing claims over allegations Associated Newspapers Limited (ANL) carried out or commissioned illegal or unlawful information-gathering.
The allegations – which are denied – include the hiring of private investigators to place listening devices inside cars and the accessing and recording of private phone conversations.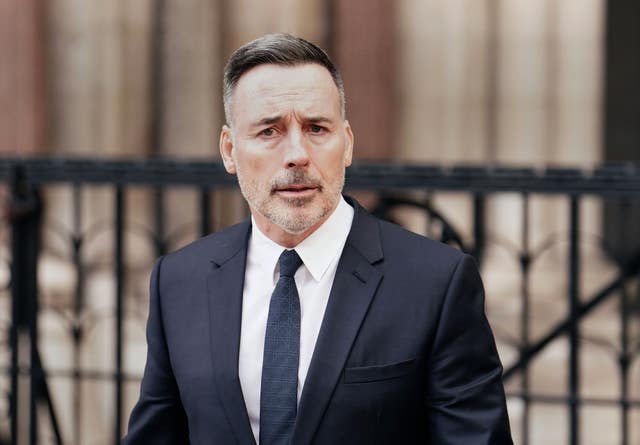 Lawyers for ANL, which is also the publisher of The Mail on Sunday and MailOnline, said the allegations are "firmly" denied and that the "stale" claims have been brought too late as it made a bid to throw out the cases.
In his witness statement, which was released on Tuesday, Mr Furnish wrote about the friendship he and Sir Elton have with Harry.
"Our friendship with Prince Harry is very close and, just as it is with Elizabeth (Hurley), paternal and protective.
"Elton and I were great friends with his mother, who we loved dearly, and when she passed we wanted to do everything we could to give him safety and security, a space of confidence and protection.
"It has deeply upset Elton and I that our intentions were used against us and that the confidence and trust Harry placed in us was exploited and abused by The Mail's callous activities," he said.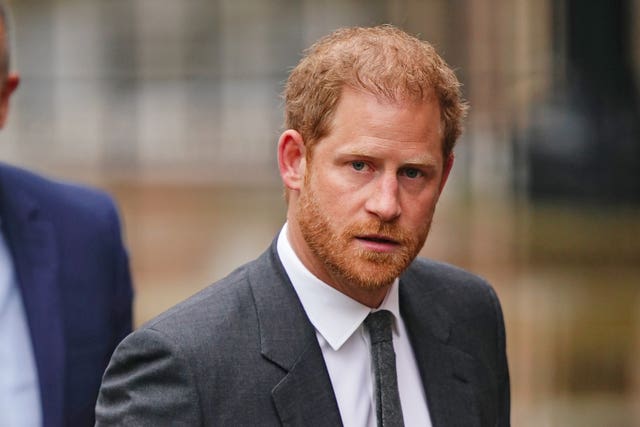 Meanwhile, Sir Elton referred in his witness statement, also released on Tuesday, to the "exploitation of love, connection, trust and bonds" and "evil acts" they did not have a chance to detect or put a stop to.
He writes about the "violation" of their home and safety of their children and loves ones.
"The Mail's approach to our case now and its use of our legal system in a way we believe it was never intended. It is wrong and unjust.
"But from a personal level, I have found The Mail's deliberate invasion into my medical health and medical details surrounding the birth of our son Zachary abhorrent and outside even the most basic standards of human decency," Sir Elton said in his statement.
The couple's friend Liz Hurley said in her witness statement that re-reading the "unlawful articles" published about her was "traumatic" and makes her feel as though her private life has been "violated by violent intruders".
She said: "Nothing felt safe. Nothing feels safe now. The more I continue to discover through my own investigations about the methods The Mail used to violate me, I remain convinced there are others who were treated the same way but have no idea.
"I now know that those methods include the actual breaking and entering of homes. My nightmares becoming a depraved reality."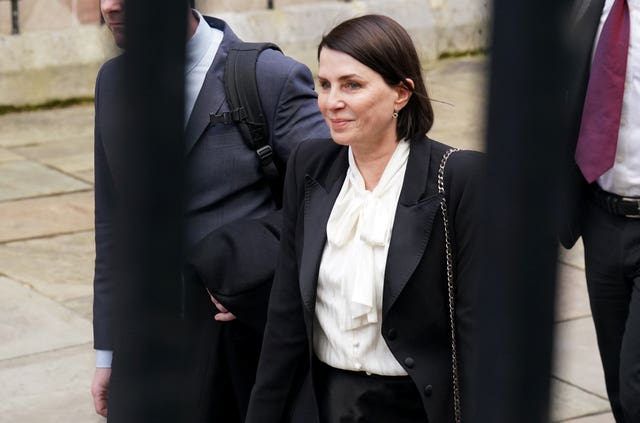 Meanwhile, actress Sadie Frost said in her witness statement that stories that were published about her "violated" her.
She alleges that a device had been put on her landline to record calls and was "mortified" at the idea of her conversations being listened to, including talking to Jude Law about their divorce.
She said she had been "mentally very unwell" and that the phone had been a "lifeline" for her.
In her statement, Ms Frost wrote: "The stories they wrote violated me, my friends and family, and my children who were still so small, and they made me believe that I could not trust anyone.
"They were always written so close to home, like it was someone who knew me really well that was talking to the journalists. That is what I suspected at the time.
"I was mentally unwell and it was so hard to make sense of things and, instead, those articles just made things crumble even more.
"I am so angry that Associated did this to me and thought it was okay to profit from someone going through so much pain without a thought for me or my children and the suffering they were causing me us all." (sic)
Referring to an article that appeared about the breakdown of her marriage with Mr Law, Ms Frost said it was a time when there was a stigma around mental health and she did not want the world knowing her private business.
"I began to feel that I could not openly speak to the doctors, my friends or my family about it otherwise it would somehow end up in Associated's papers.
"I began to shut down. I stopped eating and started to lose a lot of weight. I felt suicidal. I hid, humiliated by what Associated were publishing about me.
"I was just trying to be a good mother and support the children during the divorce. Associated's unlawful acts leading to this sort of story made my life so much more difficult and exacerbated my issues," Ms Frost said.
ANL is making a bid to have the claims dismissed without a trial.
Adrian Beltrami KC, for the publisher, argued in written submissions the legal actions have been brought too late and that the cases were "largely inferential".
The barrister has also said that unless lawyers for the people bringing the claim make an application, some aspects of the cases should be thrown out as they breach orders made by Lord Justice Leveson as part of the inquiry bearing his name into press standards.
The hearing before Mr Justice Nicklin is due to finish on Thursday with a decision expected at a later date.