Roger Daltrey headlines final night of Teenage Cancer Trust gigs
Roger Daltrey thanked everyone who performed for the Teenage Cancer Trust as he headlined the final night of a week of fundraising gigs for the charity at the Royal Albert Hall.
The 79-year-old singer helped launch the music and comedy event in 2000 to raise funds money for the charity, which provides care and support designed for and with young people diagnosed with cancer.
The former The Who frontman thanked everyone who had taken part in the series of gigs for playing for free.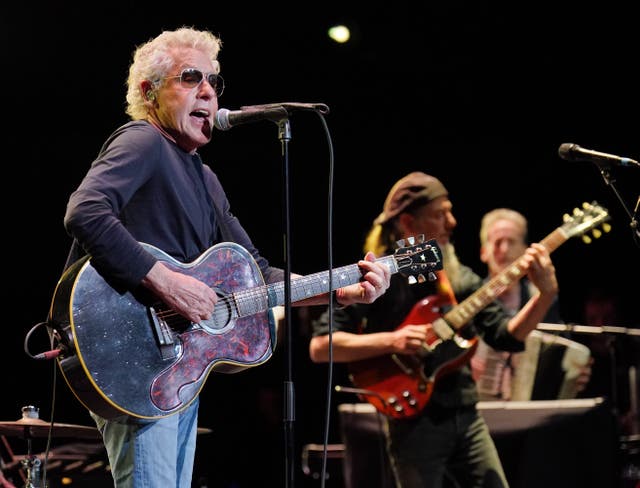 He also reflected on his work with the concert series, which is in its 21st year after two years were lost to the pandemic.
"Who would have thought we'd be here 23 years later?," he said.
"We didn't think we'd get another one, let alone 21."
Daltrey's set list was a roll call of his greatest hits, including The Who's Who Are You, and Substitute, as well as his solo songs Giving It All Away and Tattoo.
He will be back with The Who this summer as the band's orchestral Hits Back UK tour is set to kick off in Hull on July 6.
Daltrey was the last of a star studded line-up of acts to headline a night at the venue.
Previous headliners during the week included Underworld, Wet Leg, Jake Bugg, The Courteeners, and Kasabian.
Earlier on Sunday night, Far From Saints, a new band featuring Stereophonics' Kelly Jones on vocals, opened the show with a selection of songs from their self-titled debut album.
Jones swayed and tapped his feet to cheers from the audience as they played their new single Take It Through The Night.
Joan Armatrading then took to the stage, treating the audience to past hits including Down To Zero and Empty Highway.
Former The Verve frontman Richard Ashcroft wore a Princess Diana T-shirt as he played a pared back acoustic set.
There was not a dry eye in the building as Ashcroft played searing rendition of The Drugs Don't Work.
However, it was an acoustic version of Bittersweet Symphony that brought the house down, with the whole of the Royal Albert Hall singing along.