Brendan Fraser 'light-headed' following emotional best actor acceptance speech
Brendan Fraser hailed the virtues of "perseverance" after scooping the Academy Award for best actor at the 95th awards ceremony for his performance in The Whale.
The Hollywood actor, 54, said he felt "light in the head" following his win but said the film, which scooped two Oscars during Sunday's ceremony, would "change hearts and minds".
Fraser beat Elvis' Austin Butler, Irish actors Colin Farrell from The Banshees Of Inisherin and Paul Mescal from Aftersun, as well as British actor Bill Nighy for Living.
The accolade is Fraser's first Oscar nomination and win.
The Whale sees him play obese and reclusive schoolteacher Charlie, as he struggles to reconnect with his estranged daughter, played by Stranger Things star Sadie Sink.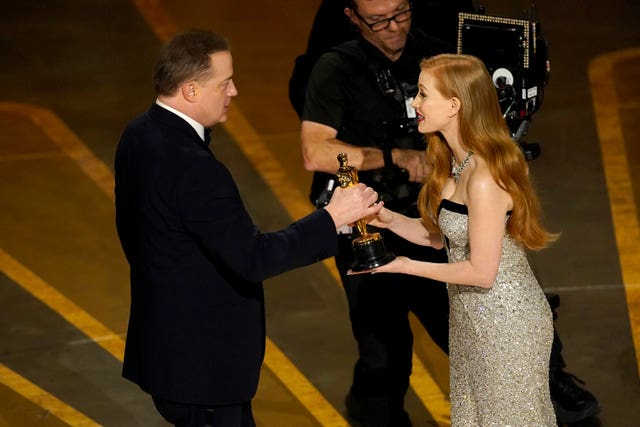 Asked in the winners room how he was feeling, he said: "I feel a little light in the head, this is actually kinda heavy – one arm might be longer than the other by the end of the evening."
On playing Charlie, he said: "Charlie is so much more than just a gay man. He's a father, he's an educator, he's a truth seeker… and that he fell hopelessly, inconveniently, in love with whomever, is immaterial.
"He found love, lost it, and then found it again – I think that that's something that we can all take a page from and know that with perseverance… and if you put one foot in front of the other, like Charlie did, go to the light.
"Believe me, if I can do it, you can do it. Good things will happen."
He added: "I think it's a film that's going to change hearts and minds – and that feels good, that feels really good."
During his emotional Oscars acceptance speech, Fraser thanked director Darren Aronofsky for "throwing me a creative life-line" and the studio for making "such a bold film" .
"So this is what the multiverse looks like," he said picking up the gong.
"I thank the academy for this honour… Darren Aronofsky for throwing me a creative lifeline and hauling me aboard the good ship The Whale."
Addressing his fellow best actor nominees, he continued: "You laid your whale-sized hearts bare so that we could see into your souls like no one else could do and it is my honour to be named alongside you in this category."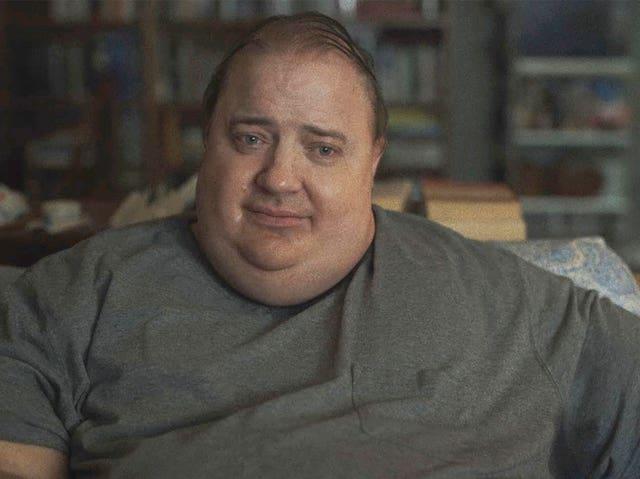 Fraser went on to thank his family and sons during the tearful speech, as well as his co-star in The Whale, Hong Chau.
"I want to tell you that only whales can swim at the depths of the talent of Hong Chau," he said.
The Whale won two Academy Awards during the ceremony, with Adrien Morot, Judy Chin and Annemarie Bradley scoring a gong for makeup and hairstyling.
In his acceptance speech, make-up artist Morot said: "We would to thank the amazing makeup artists that worked with us to create the character of Charlie. Our director Darren Aronofsky who pushed us to new heights, thank you.
"Our amazing actor Brendan Fraser over there, thank you. Our producer the studio and the Academy, thank you so much."