Christine McGuinness says autistic traits kept her in 'safe' marriage to Paddy
Christine McGuinness said she stayed in her marriage to TV presenter Paddy because it was "safe" and she "doesn't like change", which she realised after being diagnosed with autism.
The author and autism ambassador, 34, fronts a new BBC One documentary titled Christine McGuinness: Unmasking My Autism, which sees her uncover the issue of women and girls going undiagnosed.
The documentary is also a journey of self-discovery for McGuinness who uncovers the links between her autism, having an eating disorder and suffering sexual abuse as a teenager.
She also discusses her marriage to Top Gear presenter Paddy, who she married in 2011 and with whom she shares children Felicity and twins Leo and Penelope.
The couple revealed they had separated last June, just six months after their moving BBC documentary Our Family And Autism which shone a light on Christine and her three children's autism diagnosis.
Christine said: "I didn't want my family to ever fall apart and that's why I stayed married. As an autistic woman, I like to stay where I'm comfortable, I like things to stay the same.
"I understand myself better now because that's where I was comfortable just knowing that it was me, Patrick and the children – but sometimes change has to happen.
"You just have to deal with it in the best way possible."
Christine said when she first met Paddy he felt "very safe" and she stayed in that relationship for 15 years having suffered sexual abuse as a teenager.
In the documentary, she said: "I know I've stayed in a place where I was probably unhappy because it was safe and I don't like change and ultimately I wanted to keep my family together."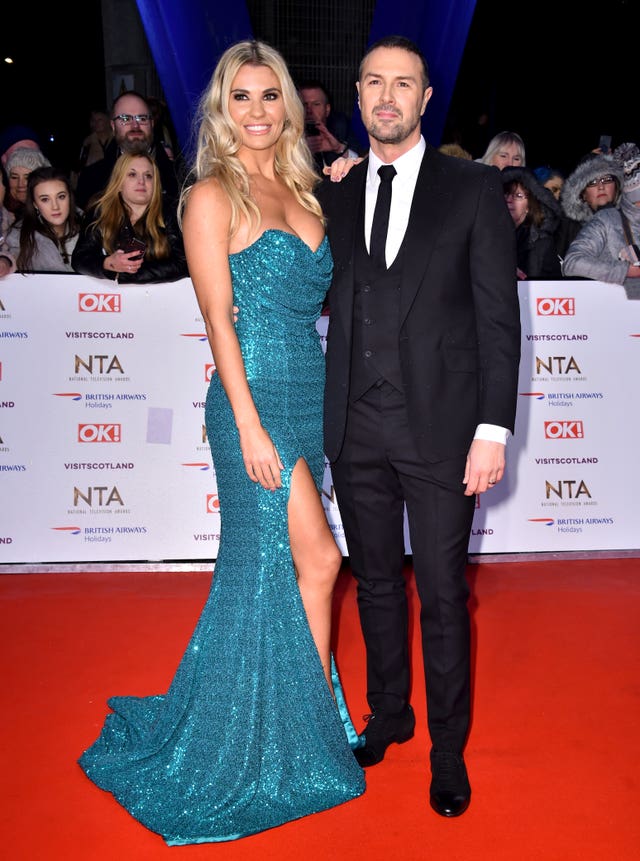 Since learning of her diagnosis, Christine said she set out on a personal mission to figure out her identity and is trying to take the pressure off and be unapologetically herself.
She said: "I wanted to be the perfect wife and the perfect mum. I insisted on doing absolutely everything.
"I'm trying to not people please as much, which is hard because that's just naturally me. I hate the thought of upsetting anyone, it really upsets me, I feel it a lot.
"I'm trying to say yes to more opportunities that scare me because I want to enjoy life and I want to live and I want to do more, I want to experience more.
"But also say no to things that I don't want to do. I accept myself more. I'm a lot less apologetic about myself now. I'm proud of myself and I'm happy with where I am right now."
Christine also said that she wanted to be "really authentic" in the documentary.
She said: "I wanted to be honest, I didn't want to hold back too much. I'm not from one of these drama schools and acting, I'm not a TV presenter or a host, I am a mum first and foremost.
"I fell into this world, showbiz wasn't something that I was ever thinking about. The word celebrity was never thrown about when I was a teenager, I've never looked at glossy magazines, I simply just always wanted to be a mum.
"It turns out I'm an autistic mum with three autistic children and I've got a platform that I can use to help."
The BBC documentary will see Christine meet a group of autistic mothers, which she said for the first time in her life made her feel like she didn't need to "fit in".
She also cleared her wardrobe of all the clothes she did not like to wear, which she had described as "the power of pretending".
She said: "I had a wardrobe for clothes that I would wear at home, a wardrobe for clothes that I would wear on social media, and a wardrobe for clothes that I would wear on TV, and all of them were completely different.
"It was like three different people lived in that wardrobe, and I didn't know which one I was. I had clothes that I would never actually wear for myself, that felt good.
"I'm not going to try and dress like how I think I'm supposed to turn up, I'm just going to wear the outfits that I'm comfortable in and that I like."
Christine McGuinness: Unmasking My Autism airs on March 15 at 9pm on BBC One and iPlayer.