Vernon Kay moved to tears while talking about joining BBC Radio 2 'family'
Vernon Kay became emotional when reflecting on the support he has received after announcing he will replace veteran broadcaster Ken Bruce on his BBC Radio 2 mid-morning weekday show.
The TV presenter, 48, will take over in May after Bruce's final 9.30am to 12pm show on March 3 after 31 years.
Appearing on The Zoe Ball Breakfast Show, Kay said: "My dad is a lorry driver and I said this when I joined Radio 2 and started standing in for Steve Wright, so we've always had Radio 2 on in the background.
"It is part of us, it is in our DNA – Ken Bruce is mid-mornings. You don't think of any other DJ when you think of that slot.
"Whatever channel you choose to listen to, whoever is on mid-mornings, it's the Ken Bruce slot. He has made it his own and he is an absolute legend of broadcasting.
"To be asked to step into those big shoes… it was a big deep breath, I'll be honest with you. Obviously I am over the moon and so are my parents and Tess and the kids, but it's the Ken Bruce show and the man has raised the bar so high that I'm just so excited to be able to take the reins.
"I am absolutely over the moon, I really am."
Kay was moved to tears when reflecting on all the support he has received since he was announced as the new host.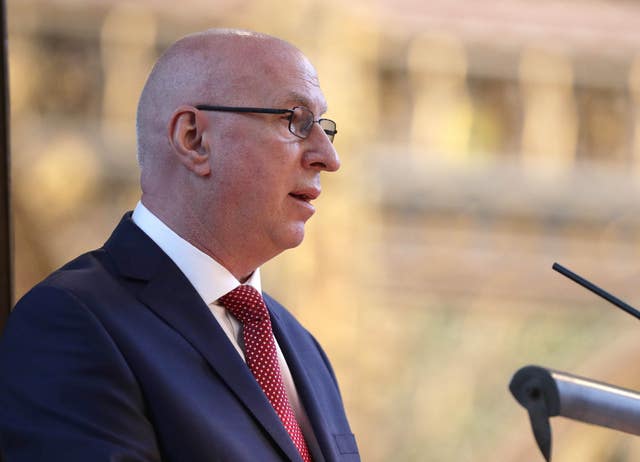 He said: "One of the best things that has happened in the past few days is every single person on Radio 2 has messaged me and sent me an amazing either a voicemail, email, a Whatsapp… just saying how overjoyed that I'm joining the family… I'm getting quite emotional."
Kay also recalled the moment he told his parents about taking over from Bruce.
He said: "First thing my dad said in the background… my mum always picks up, so in the background my dad went, 'Big boots them, son'.
"My mums like, 'Norman, give over. Leave him alone. Well done, love'."
Kay, who is celebrating his 20th wedding anniversary to Strictly Come Dancing presenter Tess Daly this year, is known for fronting various shows on Channel 4's T4 as well as ITV programmes including All Star Family Fortunes, Just The Two Of Us, and Beat The Star.
He presented his own BBC Radio 1 show between 2004 and 2012 and another on Radio X between 2015 and 2017.
He is a familiar face on Radio 2, having previously filled in for presenters including Zoe Ball, Steve Wright, Rylan Clark and Dermot O'Leary.
The BBC previously said Gary Davies, host of the station's Sounds Of The 80s, will present the mid-morning show from March 6 until Kay takes over the helm in May on a date yet to be announced.
The DJ will usher in Radio 2's new weekday pop quiz to replace Bruce's popular PopMaster format, as well as continuing his own radio show, which he has fronted since 2018.
It comes after 72-year-old Bruce announced he was leaving the BBC in January before saying he will be moving to Bauer's Greatest Hits Radio in April to present a new mid-morning show from 10am to 1pm.
The radio host, who started at the BBC in his early 30s, said he will "always be proud" of his association with the BBC and Radio 2 but wants to continue his career "in a slightly different way in the next few years".
On Friday, Bruce tweeted: "I will be presenting my last show on Radio 2 next Friday.
"I had intended fulfilling my contract until the end of March but the BBC has decided it wants me to leave earlier. Let's enjoy the week ahead!"