Sarah Lancashire changed Happy Valley ending for the better, says creator
Happy Valley creator Sally Wainwright has said Sarah Lancashire was "not happy" with the original ending she wrote for the hit BBC show, so audiences have her to "thank" for the "satisfying" conclusion.
The multi-Bafta award-winning series, which received five star reviews for its last instalment from critics, and saw millions of viewers tune in on Sunday, follows Lancashire as no-nonsense West Yorkshire Sergeant Catherine Cawood as she looks after her family.
Wainwright told the BBC's Newsnight programme on Monday that she has Lancashire, who won a leading actress Bafta for the second series, to "thank for that ending in many ways".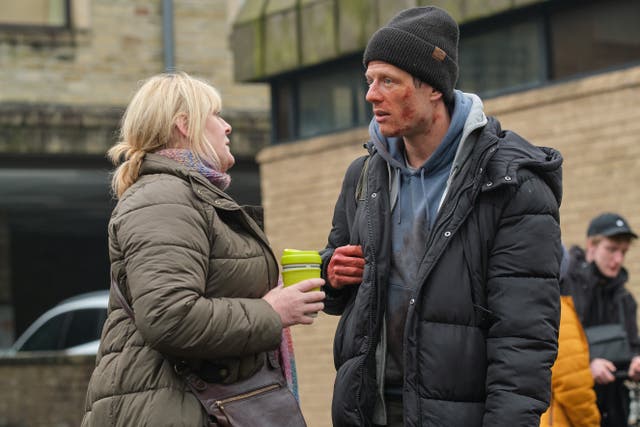 She added: "I wrote the first draft (for the last episode) and everybody seemed quite happy with it and then she made it clear that she wasn't happy with it and (during Christmas 2021)… she came up to my house and she spent all day talking about it and she gave me some really good notes.
"So everything got pushed a bit further in that episode and it was all thanks to Sarah."
Wainwright added that Lancashire's "performance is really off the scale" across the three series of the drama.
Since 2014, the show has followed Catherine as she grieves for her daughter, Becky, while raising her grandson, Ryan, played by Rhys Connah, and is pursued by her nemesis, the murderer, sex offender and escaped convict Tommy Lee Royce, played by James Norton.
The final episode saw Lee Royce set himself on fire, and later die in hospital after a final showdown with Catherine at her kitchen table.
Wainwright said: "I tend not to get very nervous any more really, about things going out.
"I'm kind of philosophical that it is what it is, and people will respond how they respond but I think because it had appeared to be doing very well, I was worried it might fall at the final hurdle and people might think it was a disappointing ending in some way."
She added that she knew it would be "satisfying" and "it was a no brainer to end on an optimistic note" for Catherine as she is a force for "good".
The ending sees other storylines wrapped up on Catherine's last day after 30 years' service in the police including the solving of a murder and a reconciliation with her sister Clare (Siobhan Finneran).
She also visits the grave of her daughter Becky and has the opportunity to drive to the Himalayas during her retirement.
Wainwright reiterated that this is the last series of Happy Valley as she does not want it to become a "pale shadow of itself" and there will be no spin-off of the show in future.
Both series one and two won Baftas for best drama series and writing.
According to the BBC's overnight figures, the last 70-minute episode drew in an average audience of 7.5 million viewers on Sunday.
Wainwright was also asked what she enjoyed about working with northern actresses, and said it was about the "shared" sense of humour and rhythm of the language.
The TV writer added: "I think there's a shorthand, I think often you've got similar experiences in your background growing up."
Wainwright, who also saw her show about lovers reuniting, Last Tango In Halifax, receive a Bafta for best drama series, has focused on strong female characters in her work.
In At Home With The Braithwaites, which ran from 2000 to 2003, she focused on a Leeds matriarch, played by Amanda Redman, who gets to grips with a secret lottery win.
In Gentleman Jack, which had series in 2019 and 2022, she follows 19th Century lesbian industrialist Anne Lister who is from Shibden, West Yorkshire.