Nobody knew what was going to happen: James Norton on Happy Valley finale
James Norton has revealed that no Happy Valley cast or crew members other than himself and Sarah Lancashire were aware of how the final series ended.
The 37-year-old actor starred as notorious villain Tommy Lee Royce in the BBC One drama, which aired its final ever episode on Sunday evening.
Speaking to The News Agents podcast, Norton explained the atmosphere on set during the filming of the final scene, which saw Tommy come face-to-face with his nemesis Sergeant Catherine Cawood before dousing himself in petrol and setting himself alight at her kitchen table.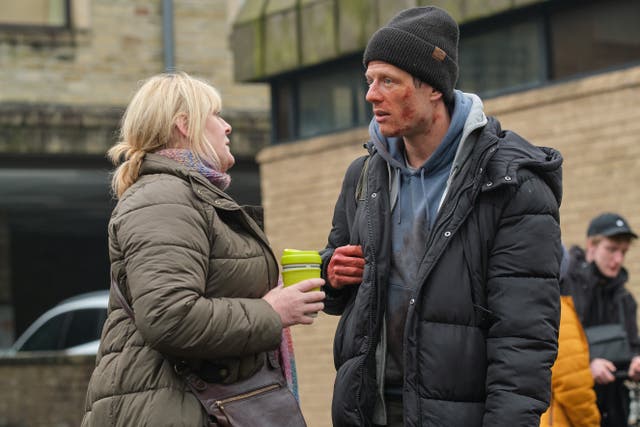 "You have good directors and good sets, well run sets, which create the kind of theatre atmosphere, and the centre of this crazy hive of activity is the space in which you act," Norton said.
"All the lights and the cameras and costumes and makeup, all of it's exhibited, all the people's work exhibited from that little space.
"And sometimes it's completely chaotic or there's noise and chaos around you.
"And occasionally, it's this sacred space where you go and it's quiet like a library or it's this sort of church.
"And this day, it was mad because most people, I think everyone, had watched the show, the first two series, everyone knew this day was very special.
"No-one knew what was going to happen because they only gave the scripts to Sarah and myself and the producers who needed to know, so everyone was really excited to see what happened."
Since 2014, the series has followed Catherine as she grieves for her daughter, Becky, while raising her grandson Ryan, played by Rhys Connah, and is pursued by Ryan's father, murderer and sex offender Tommy.
The final episode saw the eventual death of Tommy as Catherine set off to live out her retirement dream of touring the Himalayas in a Land Rover.
The show's creator Sally Wainwright previously told Newsnight that the final episode was "all thanks to Sarah (Lancashire)" after she expressed she was unhappy with Wainwright's initial ending.
She said: "I wrote the first draft (for the last episode) and everybody seemed quite happy with it and then she made it clear that she wasn't happy with it and (during Christmas 2021)… she came up to my house and she spent all day talking about it and she gave me some really good notes.
"So everything got pushed a bit further in that episode and it was all thanks to Sarah."
She added that she knew it would be "satisfying" and "it was a no brainer to end on an optimistic note" for Catherine as she is a force for "good".
While speaking to The News Agents presenters Lewis Goodall and Emily Maitlis, Norton dismissed ideas that several variations of the endings had been filmed as "nonsense".
When asked by Maitlis whether he filmed "a lot of endings" Norton replied: "No, that's complete nonsense.
"I can put that to bed now.
"That was the media taking something, which was said completely out of context… Which was then misconstrued as we'd shot hundreds of different endings.
"Which would have been a hugely wasteful and impractical way of shooting.
"You're already desperately playing against the clock and so the idea of having days to shoot alternative endings is nonsense."
Both series one and two of Happy Valley won Baftas for best drama series and writing.
According to the BBC's overnight figures, the last 70-minute episode drew in an average audience of 7.5 million viewers.