Producer described as 'pure vomit' by Eva Green begins High Court evidence
A producer of a failed sci-fi film, who was described as "pure vomit" by actress Eva Green, did not know she "had all this vitriol" towards him, the High Court has heard.
Jake Seal, the owner of Black Hangar Studios in Hampshire, began his evidence on Monday afternoon in the legal battle between the Casino Royale star and a production company over the collapse of the film A Patriot.
On the seventh day of the trial in London, Mr Seal began his evidence, telling the court he had very limited contact with the actress.
"I wasn't to know that she hated me and had all this vitriol towards me," he said.
"I only met Ms Green face-to-face on one occasion at a meeting attended by her, the former directors and Mr Harry Boyd…Other than that meeting, I only ever communicated with her via email," Mr Seal added in his written evidence.
The court previously heard Ms Green had described Mr Seal as a "devious sociopath", "evil", "pure vomit" and "a liar and a mad man".
Max Mallin KC, for White Lantern Film, said that in exchanges with her agent and the film's writer, Ms Green also described Mr Seal as "the devil", production manager Terry Bird as a "f****** moron", and described the pair as "total arseholes".
In another message, Ms Green claimed her "soul will die" if she was required to make the film with Mr Seal at the Black Hangar Studios, Mr Mallin said.
Mr Seal continued in his witness statement that Ms Green "was consistently pushing for expensive, and often unnecessary, staff members which the budget for the film could not afford".
He added: "The demands made by Ms Green were all at much higher rates than the budget could sustain, often double what could be sustained, and were not necessary nor rates that I thought White Lantern or Black Hangar were required to accept."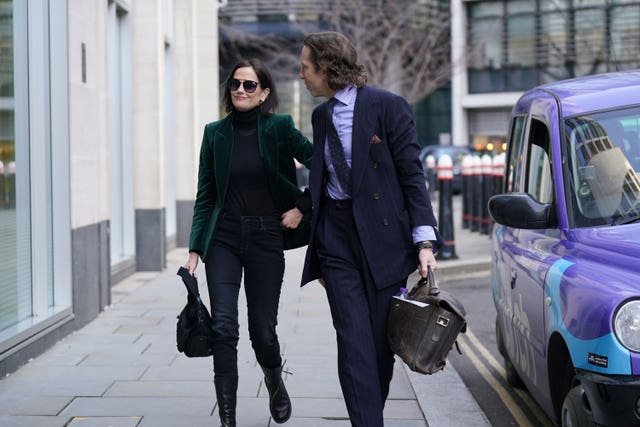 The French actress was due to play the lead role in the film, but the production was abandoned in October 2019.
She is now suing White Lantern Film, claiming she is entitled to her million-dollar (£810,000) fee, while the production company and lender SMC Speciality Finance are bringing a counterclaim, alleging she undermined the independent film's production.
During her evidence, Ms Green said she had a "very direct way of saying things" and that "sometimes you say things you don't mean".
She continued: "You say you hate a person and you say, 'I'm going to kill this person'.
"Are you going to kill this person? No. It's a cry from the heart."
The court also previously heard evidence from Harry Boyd – a first assistant director on the project who later resigned – who described Black Hangar Studios as "like a morgue" and "an aircraft hangar with leaks and no soundproofing".
Production designer Damien Creagh raised concerns about the soundproofing and the crew on set, the court also heard, claiming it was suggested that Mr Seal's wife could be the production's prop master despite her lack of experience.
In his written evidence, Mr Seal said the Hampshire studio was used to produce films and tv shows including Star Wars Rogue One and Doctor Who, and that Black Hangar Studios "provides services to substantially the same kind of films as the largest UK studios".
The producer disagreed with Mr Boyd that there were issues with either sound or weatherproofing, adding it had been dry when Mr Boyd visited the studio.
Mr Seal is due to finish his evidence on Tuesday and the trial will finish on Friday, with a decision expected in writing at a later date.