'Revolutionary' fashion designer Paco Rabanne dies aged 88
Fashion designer Paco Rabanne has died at the age of 88, it has been announced.
Rabanne, whose real name was Francisco Rabaneda Cuervo, founded the renowned fashion house named after him in 1966.
Alongside French designers Pierre Cardin and Andre Courreges, he helped upset the status quo of Paris fashion of the time, earning him the moniker of "enfant terrible".
A statement on his official Instagram account said: "The House of Paco Rabanne wishes to honour our visionary designer and founder who passed away today at the age of 88.
"Among the most seminal fashion figures of the 20th century, his legacy will remain a constant source of inspiration.
"We are grateful to Monsieur Rabanne for establishing our avant-garde heritage and defining a future of limitless possibilities."
The parent company of Paco Rabanne, who has been working with the brand since the 1960s and launched the perfume Calandre in Spain, France and the US in 1969, also paid tribute.
Jose Manuel Albesa, president of the beauty and fashion division at Puig, said Rabanne had a "radical, rebellious spirit" that made "transgression magnetic".
He added: "Who but Paco Rabanne could imagine a fragrance called Calandre – the word means automobile grille you know – and turn it into an icon of modern femininity?
"With his passing we are reminded once again of his enormous influence on contemporary fashion, a spirit that lives on in the house that bears his name."
Marc Puig, chairman and chief executive at the fashion company, also said: "A major personality in fashion, his was a daring, revolutionary and provocative vision, conveyed through a unique aesthetic.
"He will remain an important source of inspiration for the Puig fashion and fragrance teams, who continuously work together to express Mr Paco Rabanne's radically modern codes."
Born in 1934 in the Basque Country, he escaped the Spanish Civil War by fleeing to France at the age of five alongside his mother, a head seamstress at Balenciaga.
He initially studied architecture at the Ecole Nationale des Beaux-Arts in Paris and began his fashion career in the early 1960s with a collection of large plastic buttons and accessories he sold to the couture houses.
Rabanne went on to be one of the leading experimental designers within elite fashion in the 1960s, creating designs with uncharted and imaginative production methods using novel postwar industrial materials.
His architectural background and interest in space travel was evident in much of his work through the use of metallics and sculptural-style designs.
For his debut couture collection in 1966, he presented "12 unwearable dresses in contemporary materials".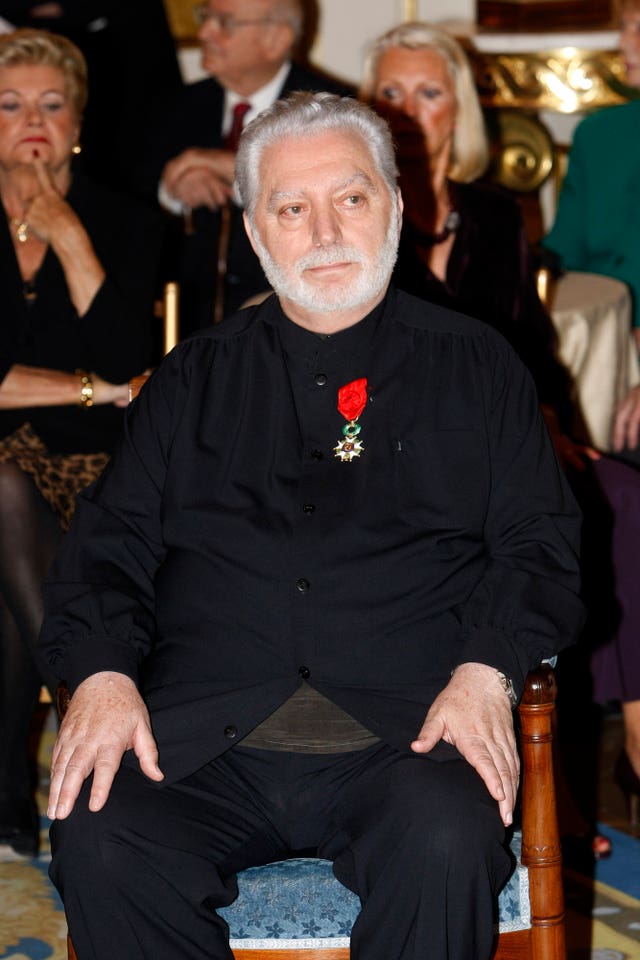 This included the famous chain mail-inspired minidress made of silver plastic plates which was to worn over a flesh-coloured bodysuit.
Baroness Helen Bachofen von Echt wore the dress to a party in New York where she danced with Frank Sinatra, according to the V&A museum.
In 1968's Barbarella, actress Jane Fonda as the titular space-traveller donned a green costume by Rabanne, which was embellished with black and green plastic squares, in the science fiction film.
His designs have been worn by global stars throughout the years including Beyonce, Taylor Swift and Blackpink.
The fashion house also had commercial success with his range of perfumes, and his debut fragrance, Calandre, is still available today.
Lady Million, with its eye-catching gold-capped bottle, remains a best-seller and widely available.
Both The Great actress Elle Fanning and US professional basketball player Jalen Green are brand ambassadors for Paco Rabanne perfumes.
After a three-decade long career, he stepped back from the design house in 1999.
In 2010, Rabanne was made an Officier de la Legion d'Honneur in France, the country's highest civilian award.