Eurovision 2023 stage design aims to 'bring people together as one unit'
The newly unveiled design for the Eurovision Song Contest's stage is intended to demonstrate "how music can transcend borders and bring people together as one unit".
The international music show will take place at the 11,000-capacity Liverpool Arena in May, culminating in the grand final on Saturday 13, after the city was chosen to host the competition on behalf of 2022 winners Ukraine.
The stage is set to cover 220 square metres of the venue, with its architecture taking inspiration from "a wide hug that enfolds the Liverpool Arena", which is set to give the impression of "opening its arms to Ukraine, and the show's performers and guests from across the world", according to the BBC.
The structure will be created by New York-based design firm Yellow Studio, which has previously served as the design team behind last year's Grammy Awards ceremony and the 2021 MTV Video Music Awards.
The design is set to be all-encompassing – connecting the stage, performers, audience and green room together as one immersive structure.
The approach has been selected to offer "contestants and hosts multiple performance locations".
Speaking about the unveiling of the new stage design, the director of Yellow Studio, Julio Himede, said: "It's a wonderful honour to be collaborating with the BBC and the production team to design this year's Eurovision Song Contest set. This year's contest unites Ukraine and the UK to celebrate the unique cultures of both".
First-look images of the new design show the stage extending out into the audience standing area, which will sit in front of a section of booth-like seating arrangements, where the acts for participating countries will stay while they are not performing.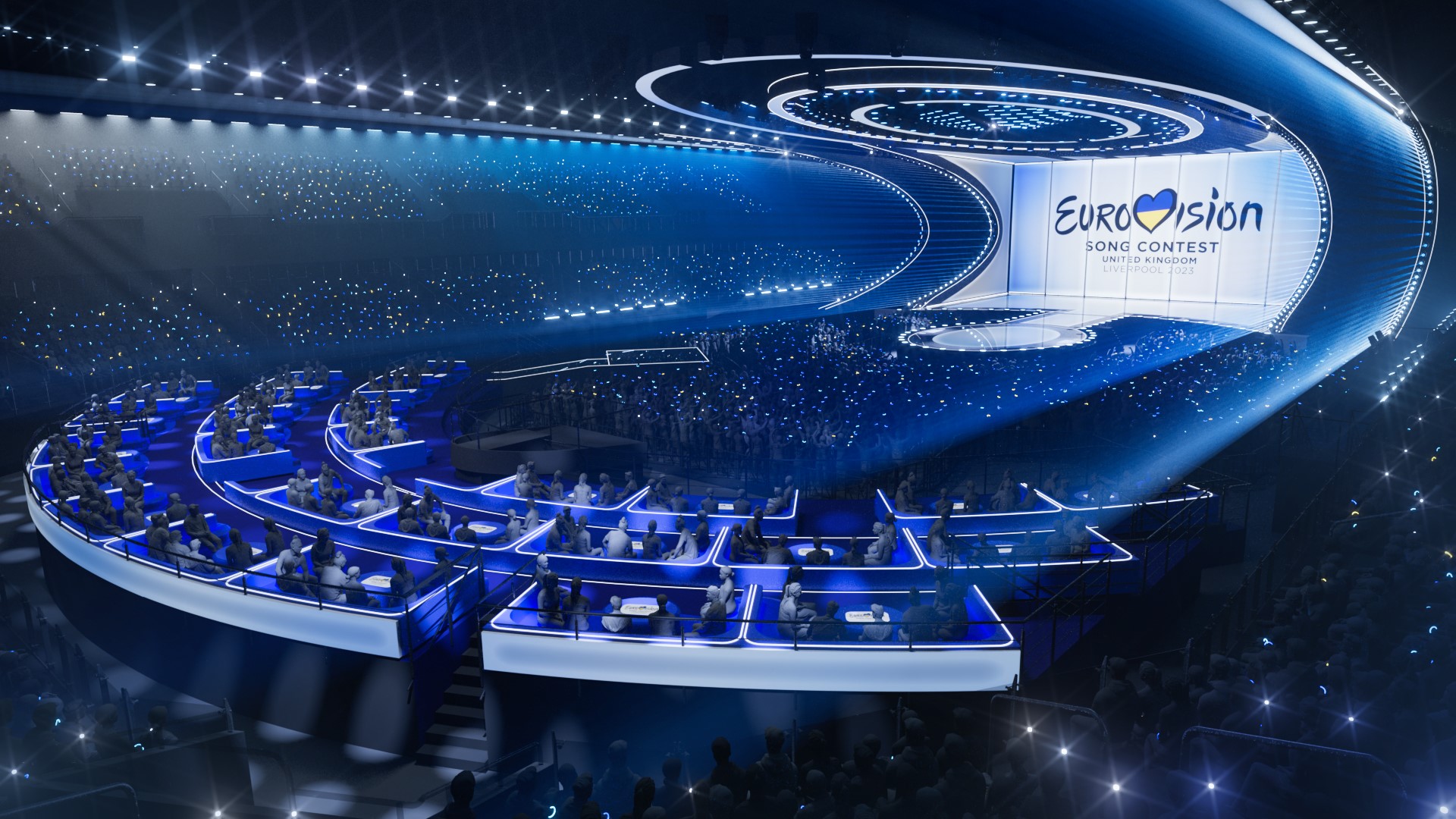 The branding and United By Music slogan for this year's contest were revealed last month, with artwork showing hearts beating together in the colours of the Ukrainian and UK flags.
As a nod to Liverpool's rich musical heritage and iron street signs, the BBC also confirmed the typeface Penny Lane has been used in the branding.
The Beatles, formed in city, released a song of the same name in 1967.