Ukraine 'hopes war will be over by time Eurovision 2023 takes place'
Ukraine is hoping that the war will be over in May so citizens can travel to see the Eurovision Song Contest, a manager at the country's public broadcaster said.
The Public Broadcasting Company of Ukraine (UA:PBC) is also advising the BBC and Liverpool on how to create the right "vibe" for the international music event when the UK city plays host in May.
Oksana Skybinska, an activity manager from the international co-operation department at the UA:PBC, told the PA news agency on Tuesday that she "really hopes" no other country is put in a similar situation due to an invasion.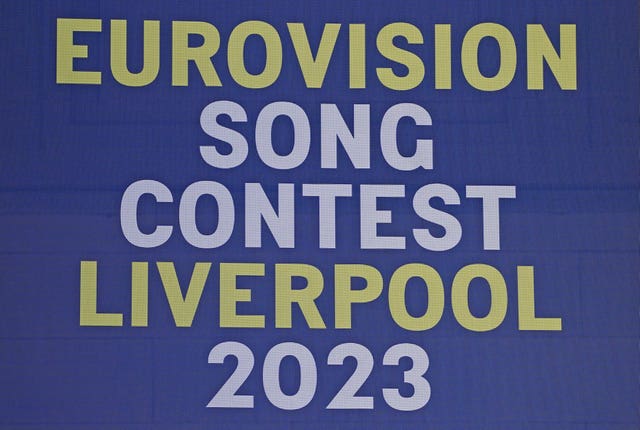 When asked if Ukrainian President Volodymyr Zelensky or other political figures would be attending Eurovision, she said: "For today's ceremony, the mayor of Kyiv has prepared a video message, a welcome message, on behalf of the previous host city of Kyiv (who) hosted the contest in 2017."
She added that Vitali Klitschko has sent a remote recording as Eurovision's handover and allocation draw programme takes place on Tuesday due to local leaders being needed at home.
Ms Skybinska also said: "We all hope that the war will be over by May, and as many people as possible from different groups of (the) population will be able to come (to Liverpool).
"We are hopeful about that, and then closer to the event of course a decision will be made (about) who will be able to come."
She added: "We're really open and really want to give as much information (to the BBC and Liverpool), as much advice, as much expertise as possible, so that this year's Eurovision does really have…(a) Ukrainian vibe."
Her organisation held the national competition to select Ukraine's 2023 contestant, which will be Tvorchi, performing Heart Of Steel.
It is the first country to select its performers for this year and Ms Skybinska, who was head of the delegation for Ukraine when Kalush Orchestra won last year, said she was "really happy and proud" they managed to achieve it, given the circumstances.
She added: "We are really happy that we managed to hold this national selection basically in the Metro, underground.
"This is something that doesn't happen in normal circumstances and shouldn't happen (again) in any other country."
During a press event on Tuesday about Eurovision, Mykola Chernotytskyi, chief executive at the UA:PBC, also said he welcomed the opportunity for the world to delve deeper into Ukrainian culture.
He added: "(Our) culture (has an) absolutely difference with Russian culture and I think Eurovision for us is like one way to show this."
Mr Chernotytskyi also said Liverpool was the "best prepared" to host the event for Ukraine and he hoped to see his country's "spirit" throughout the competition.
He added: "It was very fantastical… when yesterday evening I saw (the) Ukrainian flag under St George's Hall."
The landmark also features the new Eurovision Song Contest 2023 branding, revealed on Tuesday, showing hearts beating together in the colours of the Ukrainian and UK flags.
The new slogan of this year's event, United By Music, "reflects the very origins of the contest, developed to bring Europe closer together through a shared TV experience across different countries", according to the BBC.
The 11,000-capacity M&S Bank Arena on Liverpool's waterfront will host the contest in May.