Alec Baldwin formally charged over shooting of Halyna Hutchins on Rust movie set
Alec Baldwin has been formally charged with involuntary manslaughter following the 2021 Rust movie shooting which resulted in the death of cinematographer Halyna Hutchins.
Both Baldwin and the film's armourer Hannah Gutierrez-Reed face two charges stemming from the incident on the film's set in Santa Fe, New Mexico.
The charges were formally filed on Tuesday by the Santa Fe District Attorney's Office.
In a statement, district attorney Mary Carmack-Altwies said: "Today we have taken another important step in securing justice for Halyna Hutchins.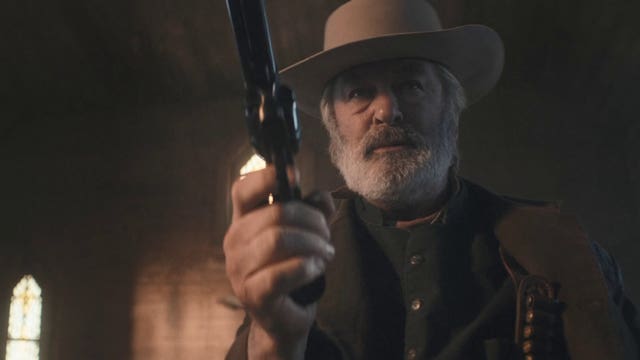 "In New Mexico, no-one is above the law and justice will be served."
Baldwin and Gutierrez-Reed will be "charged in the alternative" with the two counts of manslaughter, meaning that a jury would decide not simply if they were guilty, but under which definition of involuntary manslaughter they were guilty, the DA's office said previously.
The first charge can be referred to as involuntary manslaughter and requires proof of underlying negligence.
This charge also includes the misdemeanour charge of negligent use of a firearm, which would likely merge as a matter of law.
The second charge is involuntary manslaughter in the commission of a lawful act, which requires proof that there was more than simple negligence involved in a death.
Under New Mexico law, both charges are a fourth-degree felony and are punishable by up to 18 months in jail and a 5,000 dollar (£4,000) fine.
The second charge includes a firearm enhancement, or added mandatory penalty, which makes the crime punishable by a mandatory five years in jail.
Negligent use of a deadly weapon charges were also filed against Rust's assistant director David Halls, who has pleaded no contest and has entered into a plea agreement that is pending approval.
Both Baldwin and Gutierrez-Reed will now be issued a summons with the charging information and will be required to make a first appearance at court shortly after – though this can be done virtually.
The next step after first appearance will be a preliminary hearing, where the District Attorney and the special prosecutor will present their case to the judge, who will rule whether there is probable cause to move forward with a trial.
The state has requested that the first appearance be made within 30 days, and that the preliminary hearing take place with 60 days – though exact dates have yet to be set.