Johnson set to attack Labour over Brexit in Dorries TalkTV interview
Boris Johnson has used his upcoming TalkTV interview with Nadine Dorries to attack Labour over Brexit, as he expressed hopes that the Government would in future move to cut taxes.
The Sun reported details of some of Mr Johnson's comments, set to be aired on the former culture secretary's new Friday night talk show on TalkTV.
The first instalment of her weekly hour-long programme, titled Friday Night With Nadine, will feature an exclusive interview with the former prime minister.
The newspaper reported that Mr Johnson said that Labour would become "gravitationally sucked" back into the EU's orbit if it gained power after the next election, in comments made ahead of the third anniversary of the UK leaving the bloc.
He said: "I think that you'd have a very interesting situation, they would be gravitationally sucked back into the orbit of the EU.
"I think that would be very wrong for the country.
"It would lose us a lot of opportunities that we currently have."
Mr Johnson predicted good things for his party in the months to come, saying: "The economy will start to improve, inflation will come down, people will reward the Conservative Party, they will reward the Government for being sensible, for cutting their taxes and for getting things done that they need done.
"Certainly what I can say with confidence is that the fiscal position was pretty robust when I left office, we had scope to do all sorts of things and we were going to do them.
"And I have no doubt that when the time comes, the Government will make sure that they start to reduce the tax burden and get the economy growing again and that is what needs to happen."
Labour leader Sir Keir Starmer has ruled out on multiple occasions the UK rejoining the EU or re-entering the single market, while also criticising the deal agreed between London and Brussels by Mr Johnson.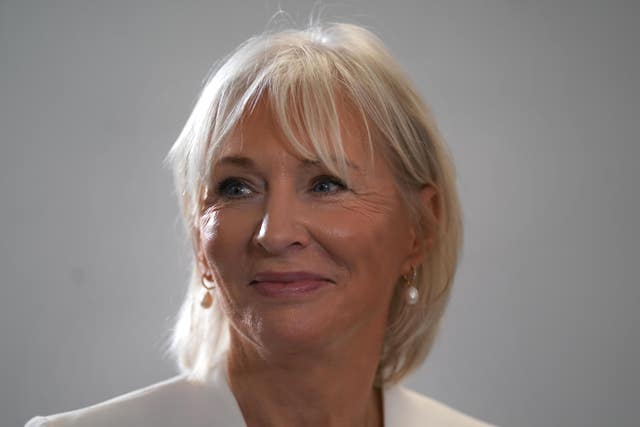 The Northern Ireland Protocol, signed off by Mr Johnson as part of his Brexit deal, remains a source of tension between the UK and the EU as the two sides bid to find a solution.
The row over the protocol, which unionists say creates a border between Northern Ireland and the rest of the UK, effectively led to the collapse of powersharing in Stormont.
Ms Dorries's new show landed her in trouble with Parliament's anti-corruption watchdog, after she was accused of breaking Government rules by not consulting the body before taking her new job at TalkTV.
Advisory Committee on Business Appointments (Acoba) chairman Lord Pickles said "failing to seek and await advice before the role was announced or taken up in this case is a breach of the Government's rules and the requirements set out in the Ministerial Code".