The Fabelmans is the 'bravest film' Steven Spielberg has ever made says producer
The Fabelmans is "the bravest film" Steven Spielberg has ever made, the movie's producer has said.
Kristie Macosko Krieger said the semi-autobiographical film was a story that the Oscar-winning director was always going to tell, though he had not "consciously" known it.
The pair have worked together for 26 years, on films including Ready Player One, West Side Story and Indiana Jones And The Kingdom Of The Crystal Skull.
The Fabelmans, starring Gabrielle LaBelle, Michelle Williams and Paul Dano, has already racked up multiple awards this season.
Last week it won best motion picture at the Golden Globes, as well as the best director accolade for Spielberg himself.
Speaking to the PA news agency at the film's London premiere, Macosko Krieger said: "It's a movie that's been a long time in the making.
"I think Steven was gonna make this movie for his entire life, but he actually didn't know it.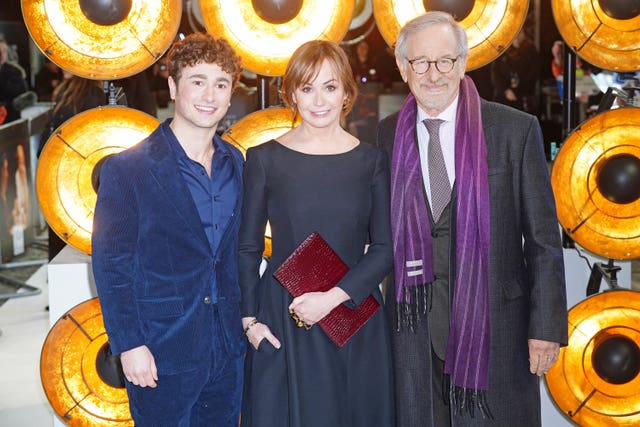 "I've worked with him for 26 years to actually be a part of this specific movie which honours his mother and father and his family in a really special way – people that I knew and people that I love – it's really special."
Asked about whether Spielberg was "destined" to make the film, she continued: "I don't think he consciously knew it, but I think subconsciously this is a story that has been in him since his family experienced what they experienced when he was a young boy.
"I think the bravest film he's ever made.
"I think he's a very personal human but this is like putting your heart out on the table and letting people look at and examine it.
"Hopefully people feel really good about what he's done."
The Fabelmans picked up a Screen Actors Guild award nomination for outstanding performance by a cast in a motion picture.
Spielberg also continued his award season rivalry with Martin McDonagh, after both were nominated for outstanding directorial achievement in a theatrical feature film for 2022 by the Directors Guild of America (DGA).
The film is also hotly tipped to pick up nods at the Oscar nominations, which are due to be announced next week on January 24.