Shirley Bassey returns to Hippodrome after celebrating 86th birthday
Dame Shirley Bassey said she was "thrilled" to be back at the Hippodrome as she made an appearance at the London venue for the first time in around 50 years.
The Welsh singer was invited back to tour the 75,000 sq ft entertainment and casino venue in Leicester Square after she celebrated her 86th birthday on Sunday.
In 1958, the Hippodrome launched as a dinner theatre called the Talk of the Town.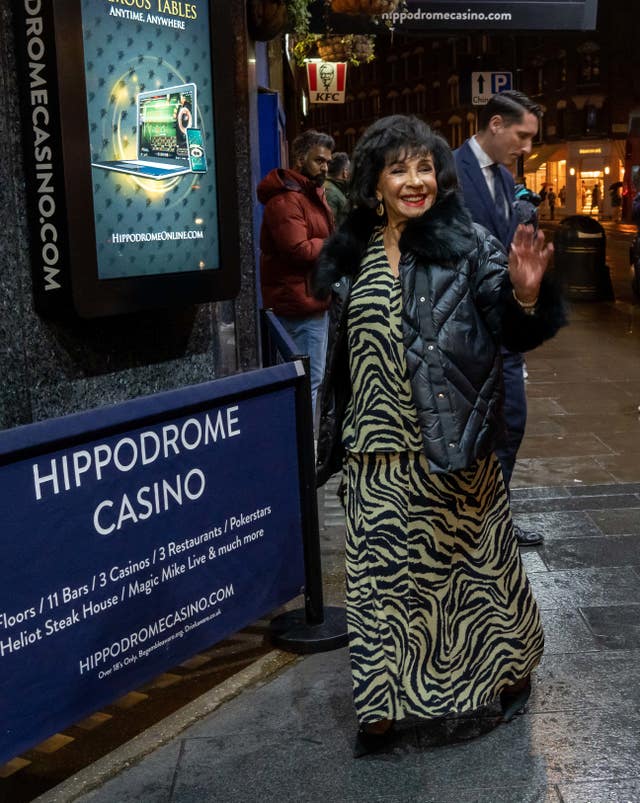 The likes of Julie Andrews, Stevie Wonder, Michael Jackson, Sir Cliff Richard, Sir Bruce Forsyth and Dame Shirley performed before the shows ended in 1983.
The Hippodrome name was revived that year and it was used as a disco until 2012, when the Hippodrome Casino was opened by Boris Johnson when he was mayor of London.
Dame Shirley said on Tuesday: "I'm thrilled to return to the Hippodrome for the first time in half a century. It has a very special place in my heart and my life.
"I'll always remember my appearances here at Talk of the Town on a stage that welcomed the likes of Judy Garland and Sammy Davis Jr. It's wonderful to be back."
After she celebrated her birthday in London, she told her Instagram followers on Wednesday: "Thank you to everybody who sent me birthday wishes!
"I have had a fantastic time in London with friends & family. Here's to another year of us all being fabulous!"
Last year, Dame Shirley gave a dazzling performance of her classic track Diamonds Are Forever during the Bafta ceremony in March where she wore a diamond-embellished silver dress with a flowing cape.
In October, she headlined a charity concert at the Royal Albert Hall celebrating 60 years of James Bond films.
The superstar recorded the themes to Goldfinger, Diamonds Are Forever and Moonraker.
Dame Shirley told her followers while welcoming in the new year that she would be spending "most of her time" in 2023 with "family and friends", and advised fans to "look after your health as a priority".