Queen quizzed Meghan on Donald Trump during first meeting, says Harry
The Duchess of Sussex was quizzed by the Queen about her opinion of Donald Trump the first time the two women met, her husband has revealed in his controversial memoir.
Meghan and Harry's momentous encounter with the late monarch was staged at Royal Lodge, the Duke of York's Berkshire home, but the duchess did not recognise Andrew when he joined them and thought the Queen's son was her assistant.
The episode was revealed in Harry's bombshell book Spare, now available in bookshops, which has sparked a furore over his claims that William physically attacked him, while his admission he killed 25 Taliban members during the Afghanistan war generated protests in Helmand province over the weekend.
The Queen Consort, described by the Duke of Sussex in interviews as "dangerous" and criticised for attempting to rehabilitate her "image" at his cost, suggested Harry become Governor General of Bermuda to escape the "maelstrom" of press interest, the book claims.
It also reveals claims about the fractious relationship between the King and his heir the Prince of Wales, with Harry recounting how William while "way too upset" rang him to say "Pa and Camilla's people had planted a story or stories about him and Kate and the kids".
Harry advised Meghan not to pose in front of the Taj Mahal, as Diana, Princess of Wales famously did in 1992 as her marriage disintegrated, to avoid being accused of "trying to mimic my mother".
The book recounts how in 2016 the duke brought his then girlfriend Meghan to meet Sarah, Duchess of York at Royal Lodge, the home she shares with ex-husband Andrew, as she already knew her daughter Princess Eugenie and her then-boyfriend now-husband Jack Brooksbank.
But as they neared the royal residence Harry was told via a call the Queen was visiting and Sarah came out to show Meghan how to curtsey.
He said both he and Fergie told Meghan: "When you first meet the Queen it's Your Majesty. Thereafter it's just Ma'am. Rhymes with ham."
Reflecting on the meeting, Harry writes: "It was all very pleasant. Granny even asked Meg what she thought of Donald Trump. (This was before the November 2016 election, so everyone in the world seemed to be thinking and talking about the Republican candidate.)
"Meg thought politics a no-win game, so she changed the subject to Canada."
Harry said his grandmother "squinted" and said to Meghan: 'I thought you were American,' Meghan replied: 'I am, but I've been living in Canada for seven years for work.'
Harry then writes: "Granny looked pleased. Commonwealth. Good, fine."
After about 20 minutes, the Queen announced she had to leave, Harry writes, adding: "My uncle Andrew, seated beside her, holding her handbag, began to escort her out."
He goes on to write: "After a moment Meg asked me something about the Queen's assistant. I asked who she was talking about," and when she mentions "That man who walked her to the door," he tells her "That was her second son, Andrew."
Throughout the book much of his anger is directed at the British media, especially the tabloid press, and he saves some of his harshest criticism for Rupert Murdoch – owner of News UK, the organisation that publishes The Sun – describing him as "evil".
Harry admits to regular drug taking and describes how in 2015 while living in the Nottingham Cottage in the grounds of Kensington Palace he would smoke marijuana, but made sure the smoke did not blow into "the garden of my neighbour, the Duke of Kent," the Queen's cousin.
There is both criticism of Charles' parenting skills and loving praise for his father from Harry.
He describes the King as liking "his routines", adding: "He wasn't the kind of father who played endless rounds of tag, or tossed a ball long after dark."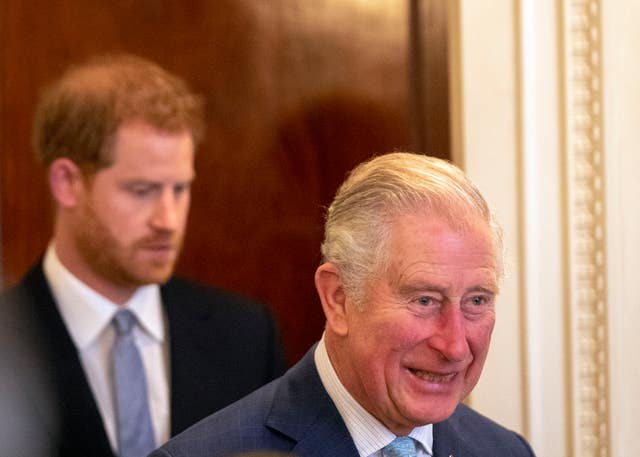 But when a picture of Harry romping naked in Las Vegas, just weeks before his deployment to Afghanistan, is splashed across the newspapers, he says Charles, to his surprise and relief, was gentle: "He felt for me, he said, he'd been there, though he'd never been naked on a front page."
Harry publicised the book with a series of interviews, and when asked by ABC's Good Morning America (GMA) about the criticism he had sold out the monarchy, he said the only way to protect his family was to correct the mistruths, by writing the truth in one place.
He added "I fully accept that writing a book is feeding the beast anyway."
Asked if he thought the book would bring his father and brother back to him or whether it would widen the divide, he told GMA: "I thought about it long and hard, and as far as I see it the divide couldn't be greater before this book."
The duke said that if reconciliation does not happen, he will focus on his life and family.
"I'm not angry any more. There are things that will still anger me, but I'm not angry any more, because I am exactly where I am supposed to be," he said.