Harry denies he and Meghan accused royal family of racism in Oprah interview
The Duke of Sussex has been accused of backtracking after denying that he and the Duchess of Sussex labelled the royal family racist in their Oprah Winfrey interview.
Harry said Meghan's claims that an unnamed family member made "troubling" comments about the skin colour of his unborn son, Archie, related to "unconscious bias" not racism.
In an exchange during an interview with Tom Bradby on ITV, in which the presenter said "in the Oprah interview you accused members of your family of racism", Harry responded by saying "no I didn't", adding "the British press said that".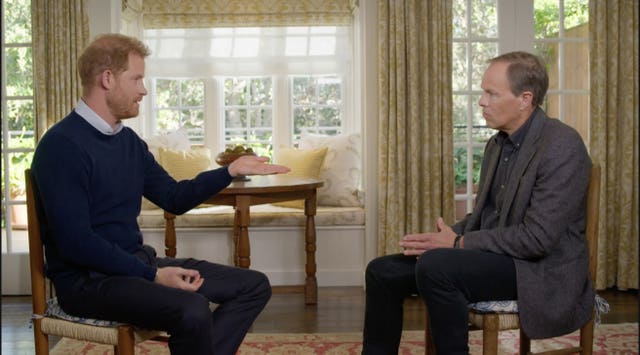 The claims in March 2021 left Oprah open-mouthed with shock and plunged the monarchy into crisis as the Windsors faced allegations of racism, but Harry again refused to name the royal allegedly involved.
He also backed the Queen's former lady in waiting Lady Susan Hussey who quit an honorary role in the royal household after repeatedly asking a black British domestic violence campaigner where she really came from.
"Meghan and I love Susan Hussey…She never meant any harm at all," he said.
The duke said the incident involving Ngozi Fulani, founder of the charity Sistah Space, and Lady Susan "is a very good example of the environment within the institution".
Bradby looked taken aback when Harry denied that he and Meghan had accused the royal family of racism.
The duke said: "Did Meghan ever mention that they're racist?"
After Bradby said the duchess claimed troubling comments were made about Archie's skin colour, Harry said: "There was – there was concern about his skin colour."
Asked if he would describe that as racist, the duke said: "I wouldn't, not having lived within that family."
He continued: "The difference between racism and unconscious bias, the two things are different.
"But once it's been acknowledged, or pointed out to you as an individual, or as an institution, that you have unconscious bias, you therefore have an opportunity to learn and grow from that in order so that you are part of the solution rather than part of the problem.
"Otherwise unconscious bias then moves into the category of racism."
After saying he would never talk about which family members had made the comments, Harry continued: "I mean what happened to Ngozi Fulani is a very good example of the environment within the institution, and why after our Oprah interview, they said that they were going to bring in a diversity tsar.
"That hasn't happened.
"Everything they said was going to happen hasn't happened.
"I've always been open to wanting to help them understand their part in it, and especially when you are the monarchy – you have a responsibility, and quite rightly people hold you to a higher standard than others.
"So, the way that I've learnt it through my own experience and for what I've seen and what I've heard, yes, you're right the key word is concern, which was troubling.
"But you speak to any other mixed-race couple around the world, and you will probably find that the white side of the family have either openly discussed it, or secretly discussed, you know, 'What are the kids gonna look like?'
"And that is part of a bigger conversation that needs to be had."
The duke added: "But, to say that that doesn't happen around the rest of the world, but it just happened there – that's not true.
"But again for me the difference is unconscious bias and racism, but if you are called out for unconscious bias you need to make that right, and you have the opportunity and the choice to.
"But if you choose not to, then that rapidly becomes something much more serious."
At the time of the Oprah interview, the now-Prince of Wales defended the Windsors, saying: "We're very much not a racist family."
Meghan, the first mixed race person to marry a senior royal for centuries, told Oprah that a royal – not the Queen nor the Duke of Edinburgh – expressed concerns with Harry about how dark Archie's skin tone might be before he was born.
The Queen issued a statement saying: "The issues raised, particularly that of race, are concerning.
"Whilst some recollections may vary, they are taken very seriously and will be addressed by the family privately."
Speaking about the incident involving Lady Susan for the first time, Harry told Bradby: "And I'm very happy for Ngozi Fulani to be invited into the palace to sit down with Lady Susan Hussey um, and to reconcile, because Meghan and I love Susan Hussey.
"She thinks she's great. And I also know that what she meant – she never meant any harm at all.
"But the response from the British press, and from people online because of the stories that they wrote was horrendous."
The incident was first highlighted by Ms Fulani when she tweeted about her distressing experience, describing it as a "form of abuse".