The Scream artist Edvard Munch's lessons for the modern world hailed by curators
World-famous painting The Scream will form part of an exhibition bringing the "emotional impact" and European spirit of Edvard Munch to the UK.
The Norwegian painter and printmaker crafted the iconic image of despair in a time of hastening modernity and increasing anxiety.
Curators believe the life and talent of the Norwegian artist will resonate with a UK audience living in another age of change, as the Munch's works are brought to the British Museum.
The collection of prints are set to show the "soul" of the artist and his subjects, and offer a glimpse of Munch as a man. Curators have said the cosmopolitan spirit of the artist is a "fantastic message" for modern museum-goers.
His works will go on display at the British Museum in April in an exhibition featuring a rare version of The Scream, with its treatment of mental illness of huge relevance to a 21st century audience, according to curator Giulia Bartrum.
She said: "His emotional impact is everything. Munch was keenly aware of mental illness, that was what he was trying to portray in his work.
"Munch's work was to do with the inner workings of the human mind. That was what he was trying to express in his work, and that has huge resonance today."
Born in Norway in 1863, Munch suffered the loss of his mother and sister when he was a child, and was brought up in a strict religious house before breaking free into Bohemianism. But anguish would plague him throughout his life, and result in him being committed to hospital for mental illness.
His work reflects his fixation on death, and the numerous love affairs he had in life. Exhibition sponsor Nicolai Tangen said that Munch sought to "paint like Dostoevsky wrote".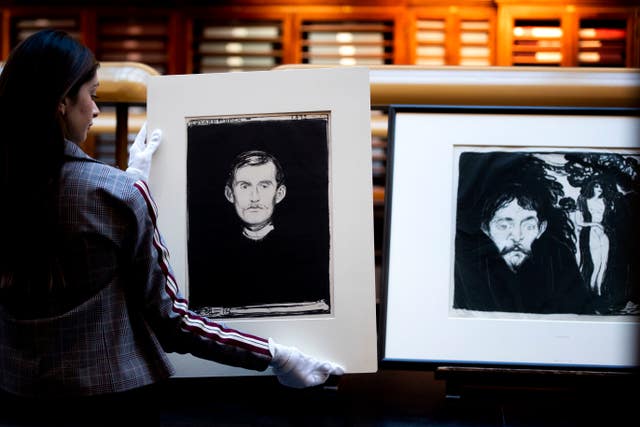 Munch's passionate relationship with women will be explored in the collection, including an X-ray of his hand showing a bullet lodged in it – a memento from an argument with a lover.
The techniques he experimented with, according to museum curators, also offer a lesson in cosmopolitanism for the 21st century.
Bartrum said: "He would have called himself a European. He would say he was Norwegian first, that was his home, but he was also a European, he was really cosmopolitan. That is a fantastic message to convey.
"The print for The Scream was made in Berlin, and Munch lived in Berlin, painting and creating from memories of Norway.
"He was from Kristiana [now Oslo], which was a tiny place on the edge of Europe, and though he fought to get away from there, he could bring all these techniques and influences back to Norway. He could travel freely in Europe in those days. He went to Paris, to Berlin, and could meet other artists who use the printmaking techniques there."
The exhibition, Edvard Munch: love and angst, will show the artist's raw emotional depictions of inner mental states, including in works such as Jealousy and The Sick Child. The 83 prints going on display span subjects from existential angst to the erotic, particularly in Madonna.
It is hoped the works going on display will introduce the British public to an artist more highly-regarded elsewhere.
Bartrum said: "The UK is much less familiar with his prints as they were never collected here as extensively as elsewhere in Europe and the US. This exhibition will put Munch into context within the old master tradition, and look at the remarkable impact of his prints alongside other leading printmakers of his period."
Many of the pieces have not been seen in the UK before, and the exhibition will be the largest for Munch works in the UK for 45 years.
Hartwig Fischer, director of the British Museum, has called The Scream "one of the iconic images in art history", and welcomed the new exhibition as "fascinating and challenging".