Rosamund Pike joins celebration of women as BFI continues equality mission
More than 80 female screen stars and filmmakers joined forces at the BFI London Film Festival to highlight the contribution of women to the film industry in the UK and around the world.
Actresses Rosamund Pike, Jessica Hynes and Andrea Riseborough attended a photo opportunity on London's Southbank, which is part of the BFI's mission to have more films created by women to lessen the long-standing "male gaze" in cinema.
The stunt mirrored one at the Cannes Film Festival earlier this year, where 82 women, including Cate Blanchett, took part in a march on the red carpet calling for gender equality in the film industry.
BFI CEO Amanda Nevill told the Press Association that the rationale behind it was "because we're really on a mission to change an industry that has been far too male-dominated for years and years".
She said: "In fact, very shockingly, since the beginning of cinema in the UK, 93% of films have been directed by men, which means we've seen cinema through the male gaze, so we need to get it tilted a bit.
"The festival is a place to start; there are 38% of films in the festival, features and shorts, which are directed by women, so we're on our way."
Nevill said that her generation tried to make changes but failed, and added: "I really take my hat off to the millennial generation, because my generation was trying to make changes and we failed, and we needed that next generation to come up and really kick ass, frankly.
"So I think the zeitgeist is going around the world and people are trying to make change happen.
"I think with the London Film Festival, it is run by a woman, the artistic director is a woman, and therefore I think somehow there's something in this unconscious bias that we just end up with more women."
Referring to the Cannes Film Festival, which was criticised for just three of the 21 films in competition being directed by women, Nevill said: "Cannes, I think they have good intentions but they didn't quite manage it."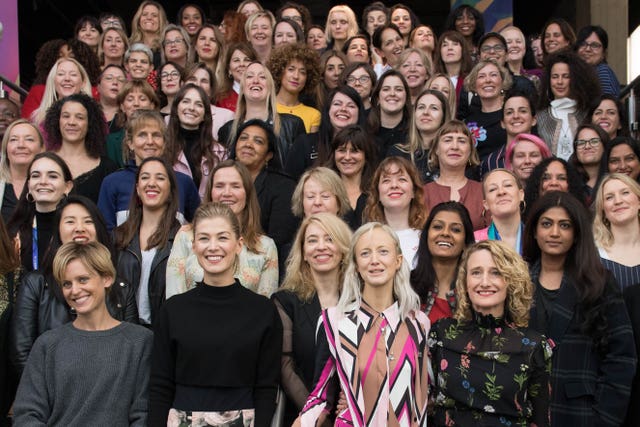 The BFI boss said she hopes that the "systemic" issue of women not getting into "positions of decision-making, economically, culturally and creatively" changes soon.
She said that the lack of women in positions of power in the film industry may have been partly to blame for the years of alleged misconduct that happened behind the scenes, and which was exposed last year with allegations being launched against the likes of Harvey Weinstein.
Nevill said it is "important we don't muddle the two" when speaking of issues of reported widespread sexual misconduct and the lack of women in power, but added: "One has got to stop, and we have to find the language so that people understand what is acceptable and what is not."
She said the BFI is soon hosting workshops for drama students, which will teach them what it is like to work on a film set, what is and is not unacceptable, and what they can do in certain situations without having to fear it will affect their career.