Keira Knightley: I don't want wife or girlfriend roles – even for more money
Keira Knightley has said she turned down well-paid roles because she was not interested in playing "the wife and girlfriend".
The actress, who is known for leading roles in films including Pirates Of The Caribbean, Atonement and Pride And Prejudice, said that she wants to be the "boss" when portraying a character, even if it means a smaller salary.
Speaking at a screen talk at the BFI London Film Festival, Knightley said: "As soon as I could start choosing my own roles, as opposed than getting what I went up for and was lucky enough to get from auditions, I was led towards powerful creatures, women I wanted to be or explore, even in their frailty.
"I have always wanted to be the lead and a lot of times it could have been more money to play the second fiddle and play the wife and the girlfriend, but I never wanted to do that.
"I'm the wife and the girlfriend at home and when I'm playing, when I'm pretending, I want to pretend to be the boss."
Knightley, 33, said that "we live in a male-dominated society and our directors are predominantly male, we explore the male identity, as a woman I feel I know the parts of men that I could never know."
She added that "we are really given a very narrow view of what it is to be a woman".
"Culturally, we really have to look at that and explore women all of their complicated whole, not just in a part," she said.
"When I'm looking for roles that is what I want to see, because that is what I identify with, I don't identify with just the supportive wife or just the supportive mother, I want to see the whole picture."
Knightley also revealed she had been embarrassed by the title of her breakout 2002 hit Bend It Like Beckham.
She said of the popular film, in which she played a footballer: "I remember when I did it I would say to people the name of the film I was doing was Bend It Like Beckham and people would say 'That sounds awful', and it was really embarrassing.
"Even when it was coming out I was like 'Oh god can't you change the name?'.
"It was a total surprise (that it was a hit)."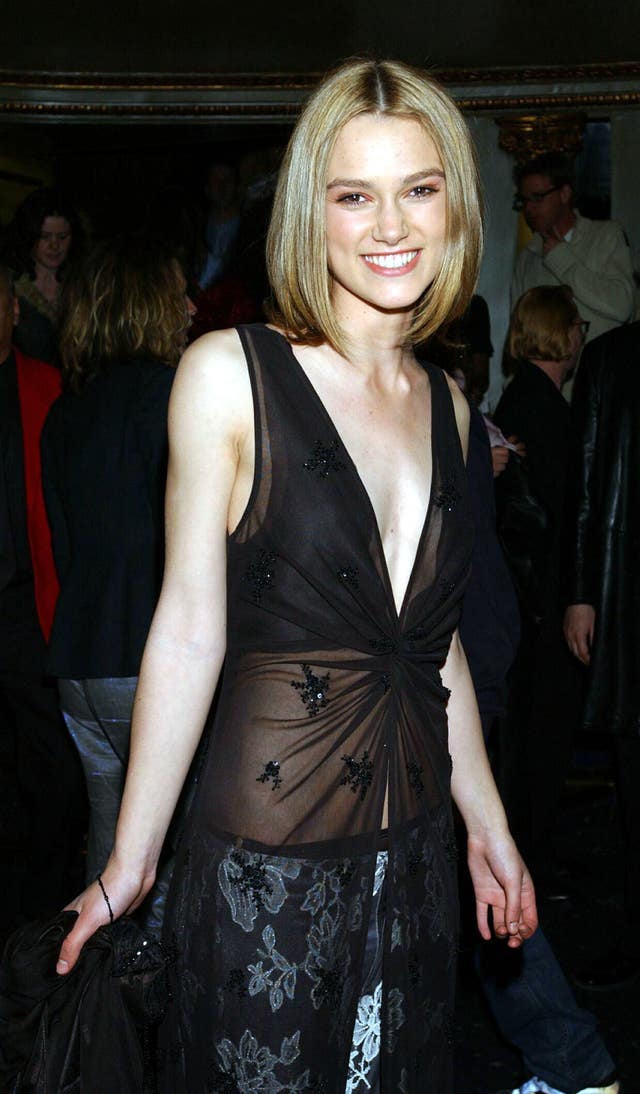 Knightley, who has also enjoyed success on the stage as well as the screen, told the audience that taking on the role of Therese Raquin on Broadway shortly after giving birth to her first child was a "terrible idea".
Her daughter Edie, now three, was four months old when she appeared in the play.
Knightley said that she regretted it, "not because Therese Raquin is not brilliant, but just after you have a baby I don't think you need to be playing a psychotic maniac for three hours a day, eight times a week.
"I will definitely do theatre again but if I ever had another baby, not four months after playing a psychotic lunatic."
Knightley appeared at the talk the day after the premiere of her new movie Colette, in which she plays the French author.