Ryan Thomas crowned the winner of Celebrity Big Brother
Ryan Thomas fought back tears as he was crowned winner of Celebrity Big Brother and was told how the public supported him through the Roxanne Pallett punch scandal.
The actor beat US actress Kirstie Alley to win the Channel 5 show in Monday night's live final.
He had been the bookies' favourite following the Pallett drama.
When she was in the house the actress accused Thomas of deliberately hurting her with a punch, which viewers defended as play-fighting. After walking out, she apologised and said she had made "a massive, horrible mistake".
Thomas was played the clip of the incident during his post-eviction interview, and told host Emma Willis how scared he had been when it was unfolding.
"It was totally unexpected," he said. "It was a sign of affection that I've used on Gabby (Allen), the boys and unexpected because there was nothing in it.
"As it unravelled, as it became bigger and bigger, the thing that scared me the most was when Ben (Jardine) told me she couldn't stay in the room with me because she was scared. That rang alarm bells and then the game became real life for me.
"I did break. I was a scared little boy.
"I felt like I was maybe going to be getting a call from police very soon."
He struggled to contain his tears when Willis told him of the outpouring of support for him.
Thomas said he could forgive Pallett, saying: "If she wants forgiveness and it makes her feel better then I would rather give her that, because I think she's been punished enough by the public and people around her."
Former Cheers star Alley said she was excited to be the runner-up.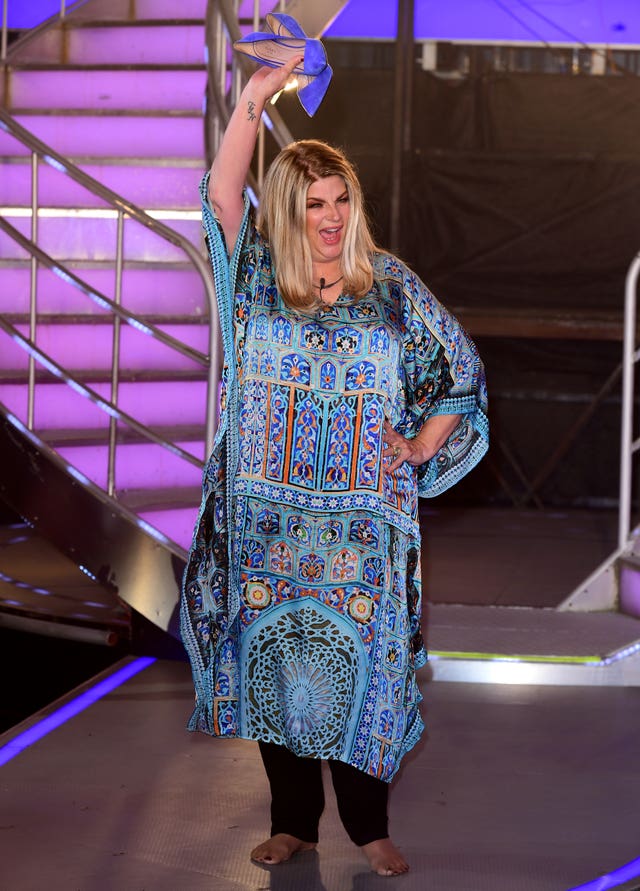 "I never foresaw myself sleeping with 13 other people, like Caligula or something," she said.
"It made me stronger and it made me a better person and I made a lot of friends, so I have no regrets."
Alley said the best British expression she had picked up was "bog roll".
"There are no napkins in the house so we had to use bog roll for everything," she told Willis.
"I'm going to take bog rolls back with me."
Thirteen housemates entered the show a little over three weeks ago. All had been through some sort of media storm.
Six made it to Monday night's final – Thomas, Alley, psychic Sally Morgan, Love Islander Gabby Allen, former trader Nick Leeson and TV personality Dan Osborne.
Osborne was third and said being in the house "gave me a lot of time to think about how I can better everything in my life".
Former trader Leeson said he hoped to have restored his reputation with his appearance on the reality show, following the Barings Bank scandal in the 90s.
Morgan came fifth and Allen was sixth.