Carrie Fisher's brother praises JJ Abrams for putting her in new Star Wars film
Actor Todd Fisher has welcomed the announcement that unreleased footage of his late sister, actress Carrie Fisher, will be used in the next instalment of the Star Wars franchise.
Lucasfilm and Star Wars writer-director JJ Abrams announced on Friday that footage of the Princess Leia star shot for 2015's Star Wars: The Force Awakens will be used in the ninth film in the space opera's core trilogies about the Skywalker family.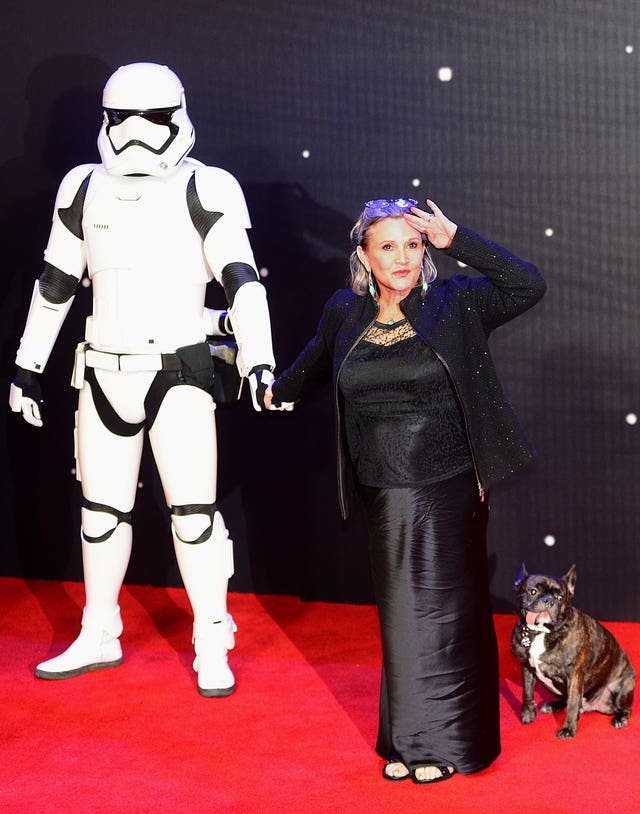 The actress, who died aged 60 in 2016, played Princess Leia in five films.
She starred in the 1977 original, its sequel The Empire Strikes Back in 1980, and then again in 1983's Return Of The Jedi.
Then, following Disney's 2012 acquisition of the franchise, Fisher reprised her role, starring in 2015's The Force Awakens and its 2017 follow-up, The Last Jedi.
Abrams promised fans that Fisher's appearance will make for a "satisfying conclusion" to the latest trilogy.
In a statement quoted by trade publication Deadline, Todd Fisher praised Abrams for not using computer graphics in his sister's posthumous return to the big screen.
He said: "As we, her family, as well as her extended family of fans around the world so believe, Carrie's Princess Leia is forever entrenched in the franchise and her indelible presence is fundamental to the film.
"J.J. Abrams understood Carrie's iconic role, and he has masterfully re-crafted this final entry to include this unused and very last footage of Carrie ever taken, without resorting to CGI or animatronics.
"Our family and her fans will look forward with great anticipation for this one! Her force will forever be with us!"
Todd Fisher told the Press Association in June that he wanted his sibling to keep appearing in the film series.
He said: "I want her to (appear again). I have my own opinion on that. Disney of course spent the billions to decide but, ultimately, from the brother's standpoint, I would love to see Carrie come back.
"She never really left. If you look at the heart of what Star Wars is about, it's very much about the Jedi way and the spirituality of the Jedi. And how this life is just a prelude to the next.
"Her legacy will live on and could potentially be stronger and if they chose to embrace that it could be awesome."
Todd and Carrie are the children of singer Eddie Fisher and actress Debbie Reynolds.
Following the deaths of his sister and mother in December 2016, Todd wrote a memoir called My Girls: A Lifetime with Carrie And Debbie, which was published in June.