Ex-PMs join Jo Cox tribute episode of Last Leg ... and Ed Balls retires his Gangnam Style
Tony Blair and three other former prime ministers have joined forces for a special tribute episode of Channel 4′s The Last Leg, marking a year since the death of MP Jo Cox.
Gordon Brown, John Major and David Cameron, along with Mr Blair, shared messages in memory and celebration of Ms Cox – who was shot and stabbed on June 16 last year by right-wing extremist Thomas Mair – in the extended episode, entitled The Last Leg: Re-United Kingdom.
Former deputy prime minister Nick Clegg, Mr Blair's former spin doctor Alastair Campbell and Conservative MP James Cleverly also joined hosts Adam Hills, Josh Widdicombe and Alex Brooker on the couch, while Ed Balls, Michael Gove, Nicola Sturgeon, Ruth Davidson and Ed Miliband appeared in the episode.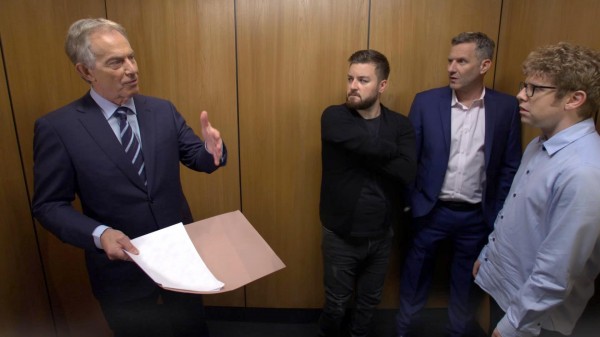 In a pre-recorded message, Mr Blair said: "It shouldn't take the murder of Jo, or the terrible events of the past few weeks, to remind us that ordinary people can do extraordinary acts of courage, kindness and generosity towards strangers and friends alike."
Mr Cameron said that Ms Cox was "spot on" when she said we have more in common than that which divides us.
Former Labour leader Mr Blair also acted in a comedy sketch with Conservative MP William Hague, the two riding in the programme's "lift of reconciliation" for one several sketches involving rival politicians making amends for the cause of unity.
Engaging in teasing banter, mocking their differences, they indulged in a "Netflix and Chill" joke, which left some viewers feeling a bit queasy given that the term is a euphemism for sex.
Former shadow chancellor Ed Balls and newly-appointed Environment Secretary Michael Gove were seen putting aside their differences at the beginning of the episode.
Mr Balls, who last year took part in Strictly Come Dancing, invited Mr Gove to a showbiz party as his plus one before the pair performed his memorable Gangnam Style dance routine together.
Mr Balls later performed the routine clad in a gingham suit for the final time on TV, as the show managed to get #MakeItOk used on Twitter over 10,000 times.
Scotland's First Minister and SNP leader Nicola Sturgeon and Ruth Davidson, leader of the Scottish Conservatives, made amends in the lift while discussing their favourite things about Scotland.
Former deputy prime minister Clegg, who was given a witty grilling by Brooker during a previous appearance on The Last Leg, got his own back by cracking an egg on the TV presenter's head during the live broadcast.
Along with the recent terror attacks in Manchester and London, the Grenfell Tower fire was discussed, with host Hills praising those who joined together to help people affected by the tragedies.
Comedians Jon Richardson, Stephen Mangan, Katherine Ryan and actors Lily Cole and James Buckley were guests on the panel.
Gary Lineker and Steve Coogan urged viewers to get together in pre-recorded video messages, while rock group Elbow performed outside the studio.
The Channel 4, ITV and Sky news teams faced-off for a funny Anchorman-style skit, before former Labour leader Mr Miliband appeared on a motorbike to urge them to "make lunch, not war" with one of his homemade scotch eggs.
The two-hour long episode of the show was aired to pay tribute to mother-of-two Ms Cox, who represented the Batley and Spen constituency in West Yorkshire, to remind viewers of what unites us as a nation.
It came ahead of The Great Get Together this weekend where thousands of people will gather for small picnics and community events across the UK.