Man carries 100kg barbell up Ben Nevis to raise funds for MND research
A father has scaled the UK's highest peak carrying a 100kg barbell to raise money for research into motor neurone disease.
David Dooher set off at 7pm on Wednesday, the day he turned 38, from the Ben Nevis Inn and reached the 4,406ft summit early on Thursday afternoon.
He undertook the challenge to raise money for the My Name'5 Doddie Foundation, launched in 2017 by Doddie Weir. Weir died last November aged 52 after a six-year battle with motor neurone disease (MND).
Mr Dooher said the barbell, similar to the weight of a giant panda, represents "the burden carried by those who live with MND, and their families".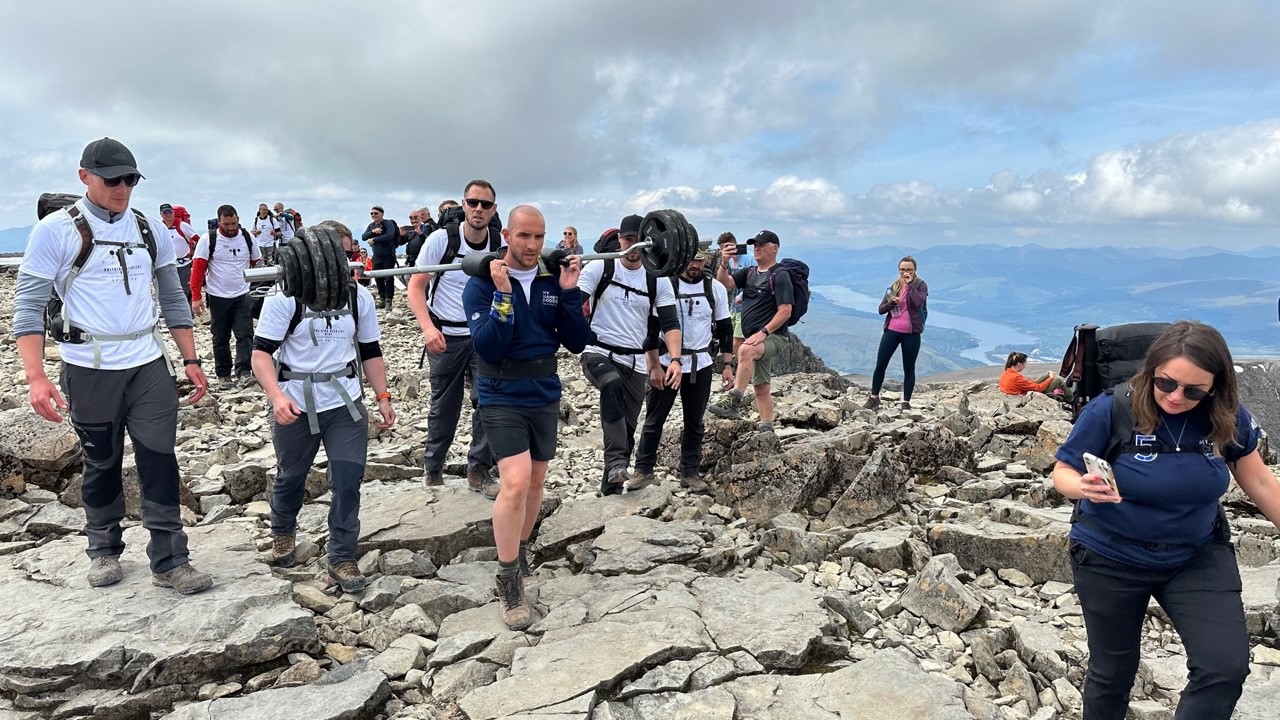 After reaching the summit of Ben Nevis, Mr Dooher, a member of Police Scotland's mountain rescue team, said: "It feels amazing to be finished – very sore and tiring – but amazing.
"I'd be lying if I said it wasn't tougher than expected, but this wasn't meant to be easy, and there was no greater motivator than who I'm doing this for: Doddie's memory and everyone affected by MND.
"The interest in the challenge and the outpouring of support has been incredible, it's spurred me on every step of the way.
"I want to thank everyone; my support team, the My Name'5 Doddie Foundation, everybody who sent messages of support and encouragement, and the wider MND community for their backing.
"It means the world and I hope that this effort will play some part, no matter how small, in helping to find effective treatments and one day a cure for this devastating disease."
Mr Dooher trained six days per week, every week, for the last six months ahead of the challenge, and upped his calorie intake beyond 4,000 calories during his training.
The father-of-two, from Uddingston in South Lanarkshire, bagged several Munros with a barbell on his back in preparation, including Ben Vorlich with 95kg and Ben Lomond with 75kg, but scaling Ben Nevis was his toughest climb yet.
Speaking ahead of the challenge, he said: "I want it to be difficult and painful. I've already been emotional during some walks just because of the pain and exhaustion, but that adds to the magnitude for me, so I'm not afraid to show it.
"I've received so many lovely messages from families of people diagnosed, or whose family have passed away due to MND. That reinforces the reasons for why I'm tackling the task. I'll be thinking about Doddie with every step.
"It's been a big sacrifice. I'll take a week off to recover once I'm done and maybe start planning a wee holiday when it's all over."
He has already raised more than £13,000 and anyone interested in donating can do so at https://www.justgiving.com/fundraising/david-dooher.
Paul Thompson, director of fundraising at My Name'5 Doddie Foundation, said: "We are blown away by David's efforts. His training alone is unthinkable.
"We are very grateful to him, and to everyone who has donated."