Flowers delivered to Taoiseach ahead of Daffodil Day
Taoiseach Leo Varadkar has received a special delivery of flowers in the run-up to Daffodil Day on Friday.
Daffodil Day is run by the Irish Cancer Society, which is aiming to raise 4 million euro to support its free services.
The flowers were delivered in a classic daffodil yellow 1969 Triumph TR6 sports car by the charity's chief executive, Averil Power, alongside five-year-old Patrick Breen, from Balally, and six-year-old Nora Forde, from Sandyford.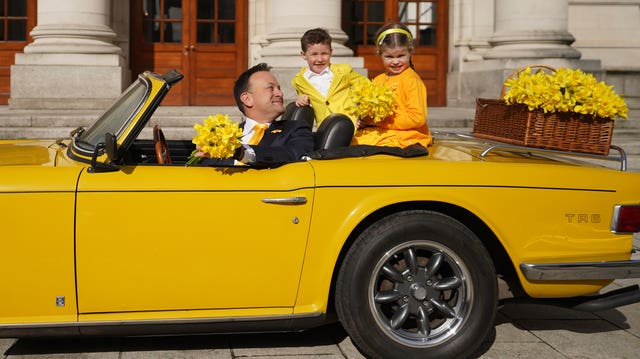 The Irish Cancer Society said this year's Daffodil Day is a reminder of the urgent need to catch up on the detection of thousands of cancers remaining undiagnosed since the start of the pandemic.
Ms Power said: "Our key message this Daffodil Day is that cancer needs more focus than ever before.
"There is now a race against time to find missed cancers so patients can begin treatment as soon as possible.
"We know that, in 2020 alone, over 2,600 cancers went undetected due to Covid."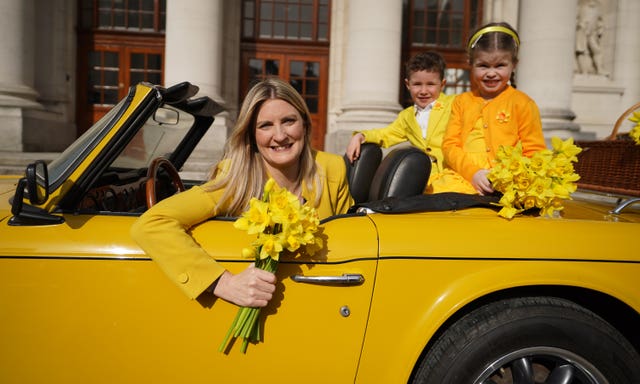 She added: "The earlier cancer is caught, the easier it is to treat, and the greater the person's chances are of surviving the disease.
"The five-year survival for breast cancer for example is 94% at stage one and only 19% at stage four."
Funds raised on Daffodil Day go to support the Irish Cancer Society's night nursing service, volunteer driver service, freephone support line, Daffodil information centres, and help fund state-of-the-art cancer research and life-saving trials.
Members of the public can donate at https://www.cancer.ie/daffodilday