Sports reporter's incredible shorthand notes shock Twitter users
In case you wondered what it takes to be a top sports reporter, the shorthand notes of Blake Murphy go some way to illustrating it.
The Toronto-based journalist shared a picture of his notes from the Toronto Raptors' preseason game against the Portland Trail Blazers – and it's blown people away.
Remarkably all those symbols on that page do indeed tell the story of the match, in a form of shorthand Blake developed three seasons ago when he became a freelance reporter.
"One of the areas of my work and knowledge I wanted to sharpen up was recognising specific plays and doing some video work," Blake told the Press Association.
"So initially, this was just so I could note when certain play types happened and at what time so that I could go back and cut the clips more easily afterwards.
"But then I found I really enjoyed keeping kind of a live diary of the action like that. I find it helps me stay focused on the game."
The reaction on Twitter from Blake's fellow writers ranged from admiration to concern.
So, how does Blake's shorthand work?
"The actual shorthand is pretty simple," he said. "Player initials for players, X or check for miss or make, time and score updates.
"The ones that confused people are probably play-call notes like 'dk' for a drive and kick or 'Pr' for a pick-and-roll, or situation notes like 'ato' or after a time-out or 'slob' for a sideline out of bounds.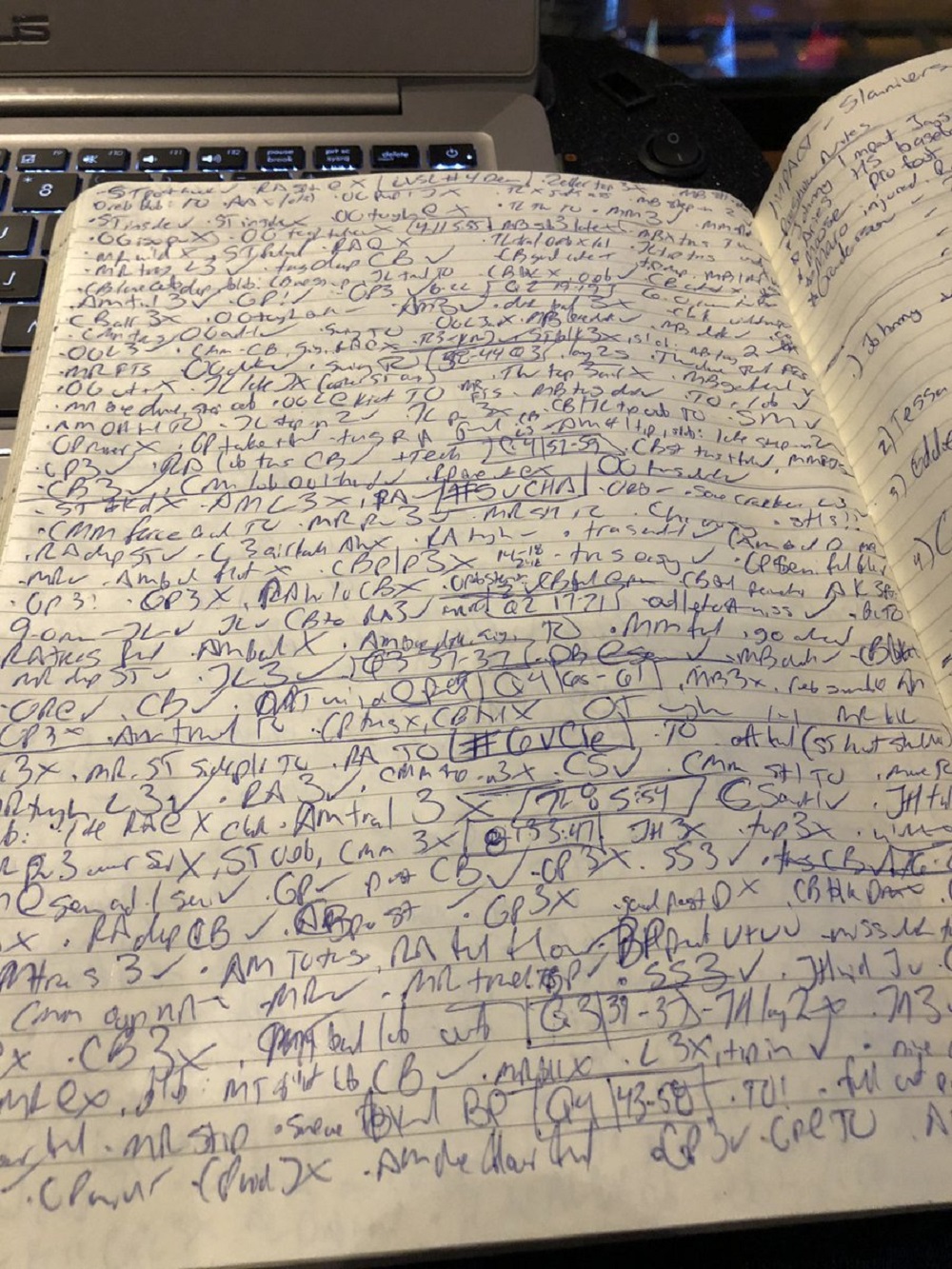 "There are some other ones too – who is defending whom, what lineup is out, etc – but mostly it's just the players involved in the action and what the action was."
Some on Twitter pointed out that there might be easier ways for Blake to take notes of the action as it happens, but he prefers his way.
Blake added that the notes help him when it comes to re-watching match footage, by allowing him to quickly find the plays that were of interest in the game.
All in all though, it's about preference.
"I fully realise it looks silly and it's entirely unnecessary to take detailed hand notes in 2018," said Blake. "It's just a comfort thing that I've grown to like doing while I watch."