These animated underground maps show the actual geography of different cities
The London Underground map, and its many variations, fascinate people.
The official map can easily distort things by making the distance between two stops just a few hundred metres apart look further, or the other way around.
A Londoner with a passion for animation made a topological map – ie one that is geographically correct – that aims to show what the tube lines actually look like stretched over London.
London Underground Map vs Topographic [OC] from dataisbeautiful
The poster, Pham_Trinli, was inspired by a similar map of Berlin.
The animation was created using this map, but excluded the DLR and Overground and only included Zones 1-3.
He told the Press Association: "The London Underground animation was fairly simple and took about half a day. It was originally going to show all the zones, stations and DLR/Overground but the more lines I added, the less visually appealing it looked."
"With hindsight it would have looked better with a dark background and thicker lines (and stations shown) instead of matching the TFL map to make the geographic distortion clearer," he added.
The Dataisbeautiful subreddit contains a lot of animated underground maps, from Seoul to Oslo, and this one of the Hong Kong MTR Map is one of the most engrossing.
Hong Kong's rail system is split over a series of islands and the animation's creator, Xavier, works in visual analytics as a designer and developer.
"I try to include in everything I do tools to enhance cognitive processes, either with simplistic, straight to the point UI and a user-driven data visualisation approach. Hong Kong was clearly a great playground for this example," he said.
"The scale is perfect to show the information without obstruction, the shape of the islands clearly define the geometry and the MTR itself is complicated enough to need better visualisation but you can still get the big picture of it."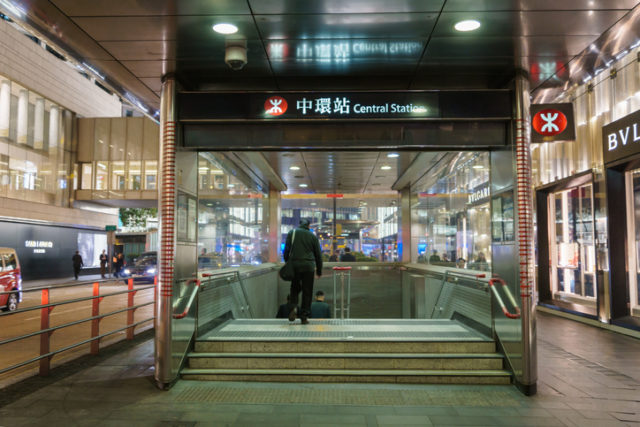 The Hong Kong resident wanted to create an accurate map after being inspired by a schematic v geographic one posted on reddit.
He said: "I realised how clever this visualisation was, I knew that I could recreate one using true geography, morphing it in a more accurate manner, especially maintaining connections between stations and MTR specificity."
The Paris map posted on the site uses a geometric version of the French capital's metro system, and is similarly hypnotic.
While the New York subway map, aside from size, is almost definitely the most accurate depiction of its city of the lot.
NYC Subway: Map Distances vs. Geographic Distances [OC] from dataisbeautiful
And the fascination with tube maps continues…