Coachella pickpocket arrested after victims track their phones using Find My Phone feature
A pickpocket who targeted revellers at California's Coachella festival has been arrested after tech-savvy victims managed to track him down using a tracking app.
Several of the victims noticed their devices were missing and used the Find My Phone feature to trace them to Reinaldo De Jesus Henao. They followed the 36-year-old, from New York, through the venue until he was detained by security and law enforcement alerted.
Upon the Indio Police's arrival, a backpack filled with over 100 phones was found on the suspect who was then arrested for grand theft and possession of stolen property.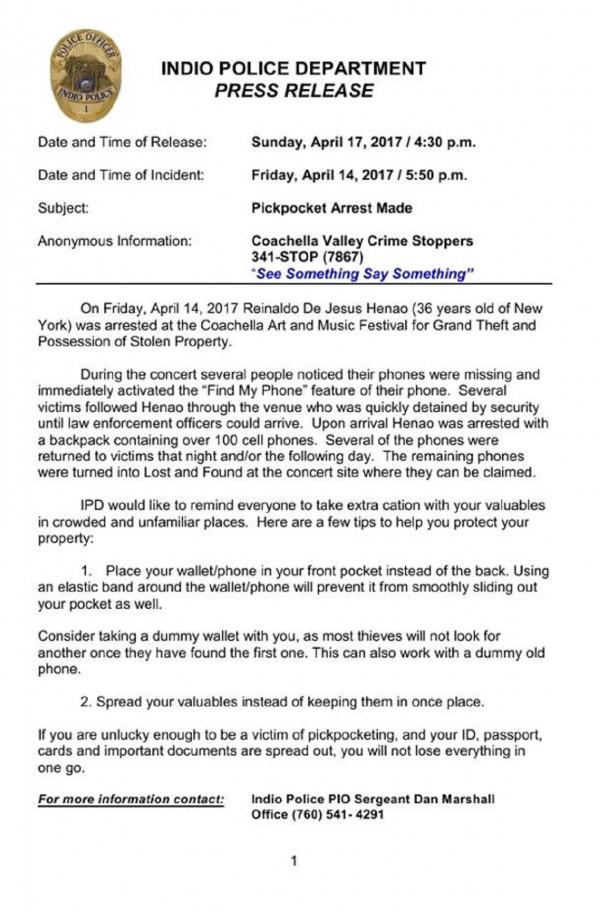 The Find My Phone app works by allowing users to sign in to their Google or Apple ID account remote and then locate their device – provided it is also linked to their account – on a map.
Many of the phones were returned to their owners with the remaining devices being handed in to Coachella's lost property.
Indio Police warned festival-goers to take extra caution against pickpocketers advising they keep their phones and wallets in their front pockets instead of the back, and not carrying all valuables in the same place.