ISS video captures the monstrous scale of Cyclone Debbie as tropical storm batters Australia
The International Space Station has captured incredible footage of Cyclone Debbie just before the storm hit Australia.
The ISS was flying over the Coral Sea at more than seven kilometres a second when it recorded the video, revealing the monstrous scale of the tropical storm, on Sunday evening.
Force Thirteen, a website that monitors natural disasters, created a timelapse version of the footage from the ISS livestream showing the menacing cloud forming over Queensland coast.
Nasa also shared an image of the eye of the storm, which was taken by its Aqua satellite.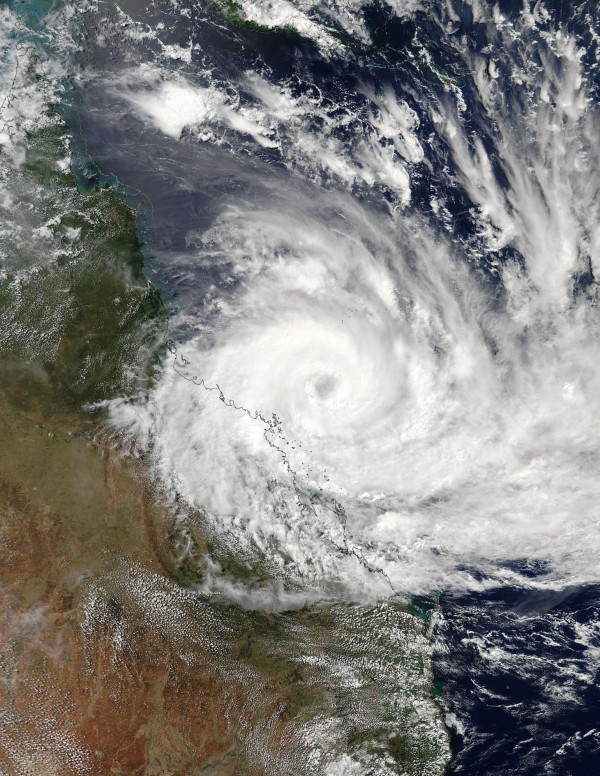 The powerful Category 4 storm, packing winds up to 160mph, slammed into Australia's tropical north-east coast on Tuesday, tearing down fences, snapping trees and knocking out power in thousands of homes.
The Australian Bureau of Meteorology said destructive eyewall – a region of calm weather at the centre of storms – of Cyclone Debbie, made landfall near Airlie Beach, a resort town in Queensland.
According to the National Oceanic and Atmospheric Administration's hurricane centre, a storm with this intensity has extremely dangerous winds which will cause extensive damage. "Well-constructed frame homes could sustain major roof and siding damage," it adds.
"Many shallowly rooted trees will be snapped or uprooted and block numerous roads. Near-total power loss is expected with outages that could last from several days to weeks."
Thousands of people have been evacuated from low-lying areas and hundreds of schools closed, with more than 20,000 households left without power.
Officials have warned the slow-moving storm is likely to hover over the region for several hours before weakening as it moves inland.