Rare Aladdin Sane photograph of David Bowie presented to V&A
A print of a rarely seen David Bowie image has been given to the Victoria and Albert Museum (V&A) to celebrate its exhibition dedicated to the late singer.
The print is of an original colour transparency image from photographer Brian Duffy's session for Bowie's 1973 album Aladdin Sane, and was gifted to the museum by the Duffy Archive.
It celebrates the V&A's best-selling David Bowie Is exhibition welcoming two million visitors on its global tour.
Launched in London in 2013, David Bowie Is has travelled to several countries and has become the most visited international touring show in the V&A's 165-year history.
It features the musician's own instruments, sketches, musical scores and costumes – including his Ziggy Stardust jumpsuit.
The record visitor figure and gift were announced by the museum's Chairman Nicholas Coleridge CBE during the V&A's annual Summer Party, organised in partnership with Harrods.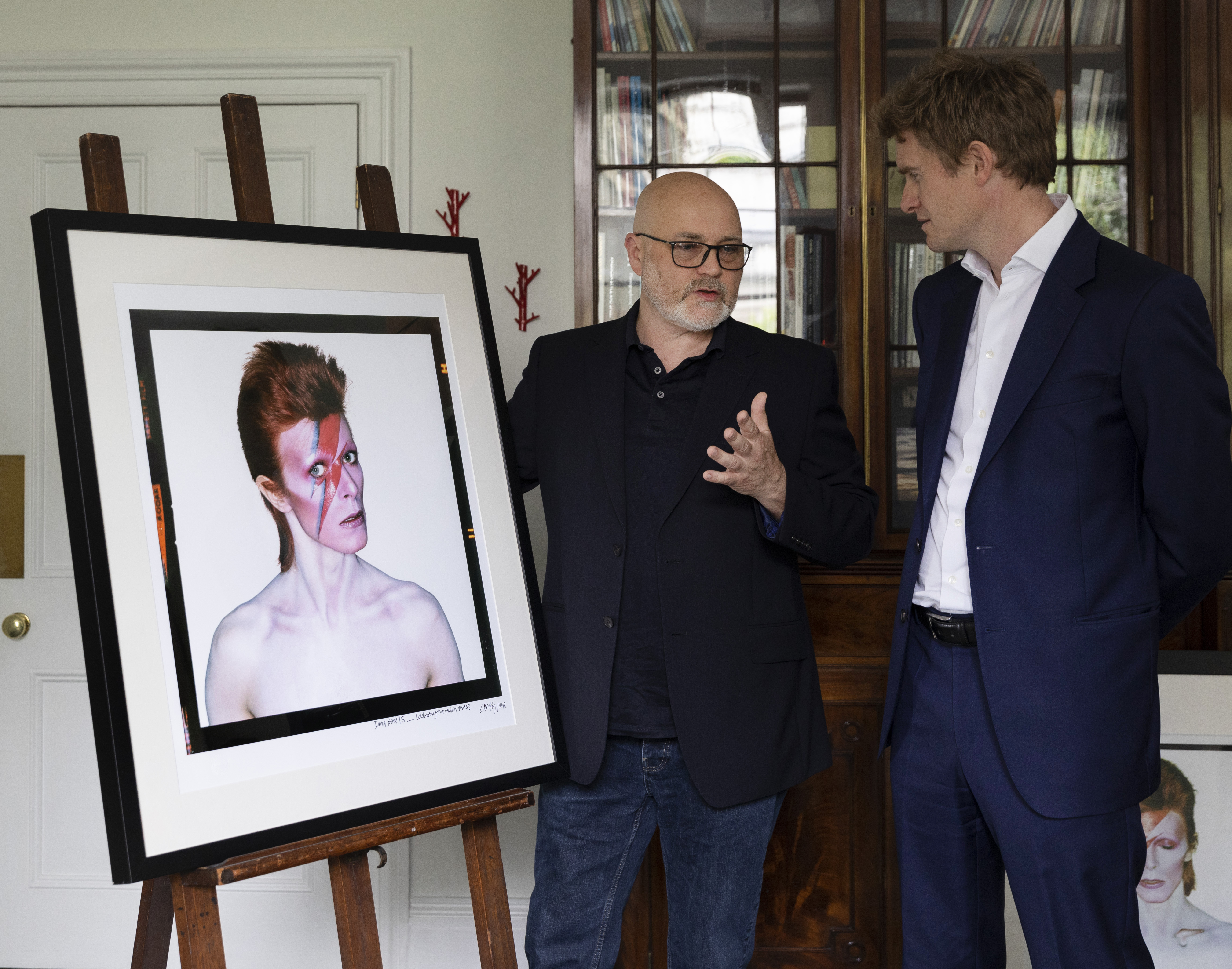 Photographer Duffy had a long creative partnership with Bowie, who died in 2016 at the age of 69, after battling cancer.
The V&A worked with the Duffy Archive in 2013 to select a previously unpublished image from the Aladdin Sane contact sheet as the lead image for the exhibition.
Duffy Archive director Chris Duffy said: "The Aladdin Sane image, featuring David Bowie painted with a lighting 'flash', is one of the best known and most copied images of the late 20th century.
"Today, it is instantly recognised around the world.
"My father greatly enjoyed his unique creative partnership with David.
"I think he would be delighted that his work is joining the V&A's collection, and that it has contributed to the continued public interest in one of the UK's great creative forces."
Matt Hancock, Secretary of State for Digital, Culture, Media and Sport, said: "Aladdin Sane is one of the most iconic images in pop history.
"This gift to the V&A celebrates David Bowie's seismic cultural importance and the huge contribution Brian Duffy made to 20th century photography.
"We want to promote the best of British culture to the world.
"The unparalleled success of David Bowie is highlights the strength of V&A's collection and the enormous benefits of international collaboration."