Ed Sheeran wins Maltesers battle with James Corden in Carpool Karaoke
Ed Sheeran stuffed 55 Maltesers in his mouth in between belting out his hits during his Carpool Karaoke ride with James Corden.
The chart-topping star took his guitar along as he joined the chat show host for a spin round the streets of Los Angeles for a special pre-recorded segment in Corden's The Late Late Show, which is being filmed in London this week.
The duo sang Ed's hits Shape Of You, Sing, Thinking Out Loud and Castle On The Hill, as well as Justin Bieber's Love Yourself, which was penned by Sheeran, as well as One Direction's What Makes You Beautiful.
The pair also competed over who could fit the most chocolates in their mouth, after Corden heard that Sheeran had previously managed 47.
While the host had to open the car door to spit out his mouthful when he reached 26, Sheeran showed off his extra capacity by fitting in 55 before he too had to spit them out into the gutter.
In between songs, Ed confirmed he still does not have a phone after he announced he was quitting social media and taking a gap year in December 2015.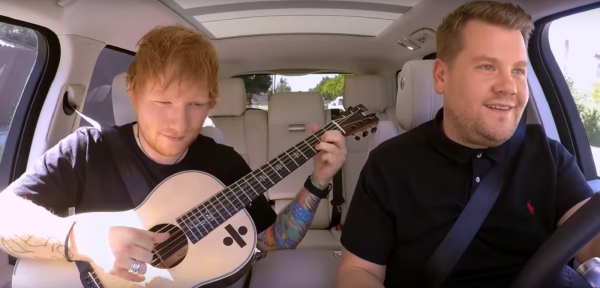 He said: "I had a phone for two weeks and then I didn't charge it. It is what it would have been like 30 years ago for our parents.
"I would wake up every morning and there would be like 50 messages and none of them would be 'Hi, how are you?'
"It would be 'Can I have this? Can you lend me this? Can you do this? Can I get this?'
"It was fine in the beginning but got really draining by the end of it."
Ed's appearance is part of the "all-star line-up" joining Corden as he brings his show to the UK this week.
The three British-based episodes of The Late Late Show will also feature Tom Cruise, Harry Styles and David Beckham as well as Nicole Kidman, Emily Blunt, Kit Harington, Sir Ben Kingsley, Russell Brand, boxer Anthony Joshua and Kings Of Leon.
The show will also feature a Drop The Mic rap battle with The Voice UK judge Jennifer Hudson.
The Late Late Show's special London episodes will air at 10pm on Sky 1 and Now TV from June 7-9.