These theme park animals who were left behind in the Syrian civil war have now been rescued
These malnourished animals were among those left behind in Aleppo's ruins following a battle for the Syrian city.
Three lions, two tigers, two hyenas and two Asian black bears were being kept at the Magic World amusement park near Aleppo.
But after the attraction was abandoned last year, the animals were neglected and many died from malnutrition or "severe bombings".
The remaining nine were being cared for by locals who took on the responsibility to feed them, until vets from animal welfare group Four Paws intervened to rescue them. They began the mission to chip and transport them to an animal protection centre in Karacabey, Turkey, last week.
"The ongoing war has taken its toll on the animals. The lack of water, food and veterinary care has left the animals physically and psychologically traumatised. Several animals were also killed by severe bombings," said Dr Amir Khalil, vet and head of the Four Paws mission.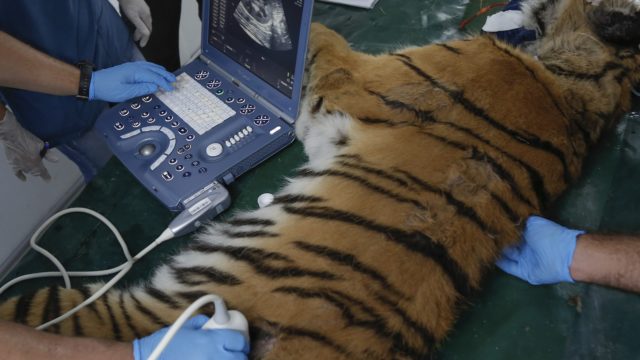 He added in a statement: "The ever-deteriorating situation of the animals worried us. Also, wild animals such as bears and big cats, trapped in desolate enclosures, can quickly pose a threat to humans."
The animals will be re-homed once their health is restored, and could be moved to Jordan, South Africa or the Netherlands in the future.
The Syrian city of Aleppo was caught in a raging war between the Syrian opposition and government forces from 2012 to 2016, which left thousands dead and parts of the city in ruins.