England understand consequences of stepping out of line at World Cup – Dan Cole
Dan Cole insists England's players understand the damaging consequences of stepping out of line while seeking to escape World Cup cabin fever.
Cole will appear in his fourth tournament when he lines up against Argentina in Marseille on Saturday with his experience giving the Test centurion an insight into striking the right balance between rugby and recreation.
In 2011 that harmony was thrown out of kilter by a series of embarrassing off-field incidents that tarnished England's reputation and ushered in the reign of Stuart Lancaster, who then set a headmasterly tone in 2015.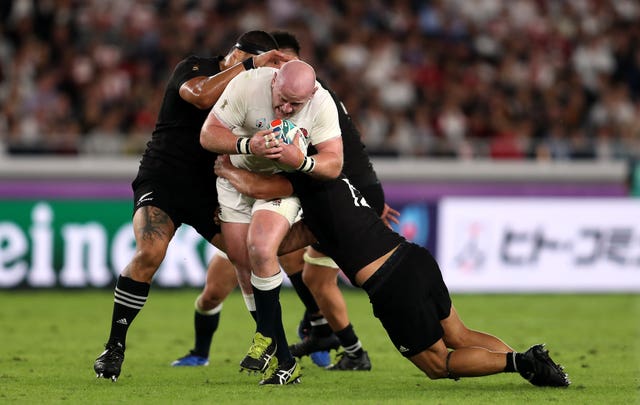 Four years later in Japan, the right note was struck as a purposeful squad reached the final before falling to South Africa.
A regular sight at England's camp in Le Touquet is players riding bikes, spending time on the beach, strolling through town or eating dinner in local restaurants – a level of freedom Cole insists is not taken lightly.
"We've always been told there's a trust. If you f*** up you're out, basically. So no one f**** up. Or tries not to," Cole said.
"Some people do it differently to others – some are more casual with their evenings, others are more professional – but it's whatever works.
"Players and coaches know that when you're on the field, there's no hiding in a 33-man squad. If you're not ready to go then people see it straight away.
"No one really wants to be in that position. That's down to the squad culture and that's why good teams are good."
One of the incidents that blighted England in 2011 was Manu Tuilagi jumping off a ferry into Auckland harbour, incurring a police warning and £3,000 fine from the Rugby Football Union.
"Well, I held his (Manu's) phone. As a young person you learn," said Cole, who was Tuilagi's team-mate at Leicester for 11 years.
"The squad learnt what you can and can't do. If you decided to do that type of stuff you hurt the squad. It does not last for you for the day. It lasts for the rest of your career.
"We had times when we weren't training in Japan and we did go out and explore. There's a balance, you're in these unique places and you might only be there once in your life, so you may as well enjoy them and explore.
"It's a mental break – the pressure of the World Cup gets to you so it's good to get out of your room.
"Le Touquet has made an effort to have us here so we might as well reciprocate and explore."
Cole's Test career appeared to be over until Steve Borthwick's arrival as head coach offered a route back and he made his first appearance since the 2019 World Cup final in the recent Six Nations.
England's scrum was overwhelmed by South Africa in Yokohama four years ago and Cole appeared to have paid the price.
"You come back from a World Cup and you've got bit of a point to prove, or a grievance," Cole said.
"You have that annoyance in yourself that you want to put things right, as you always do after a loss.
"That is the way I have been brought through at Leicester and England – you want to put things right straight away and after Steve took over Leicester, he laid down a challenge.
"I thought 'we have got something to buy into here' and that is what we did. It just becomes part of what you do, so when England came and said 'we'd like you in the squad, would you like to help'? 'Yes, I would love to'.
"I don't think it is fuelled by anything. It is part of the way we have been brought up, especially at Leicester and England – every day you turn up and work and try to get better."