Ryder Cup under way with Europe's 'Team Angry' keeping calm early on
World number one Scottie Scheffler almost got the Ryder Cup off to a stunning start in Rome after nearly holing his chip for birdie at the opening hole.
The American had the honour of leading off in front of a fervent home crowd surrounding Marco Simone's first tee and while his drive was less impressive than Jon Rahm's he made up for it with his second, his team's third in the foursomes format, but his ball lipped out.
Europe were in a better position on the green thanks to Tyrell Hatton's approach but his Spanish team-mate could not sink the putt.
On the outskirts of the Eternal City, just over 13 miles from the original Colosseum built almost 2,000 years ago, the modern-day gladiators emerged from a short, dark tunnel under a grandstand seating almost 5,000.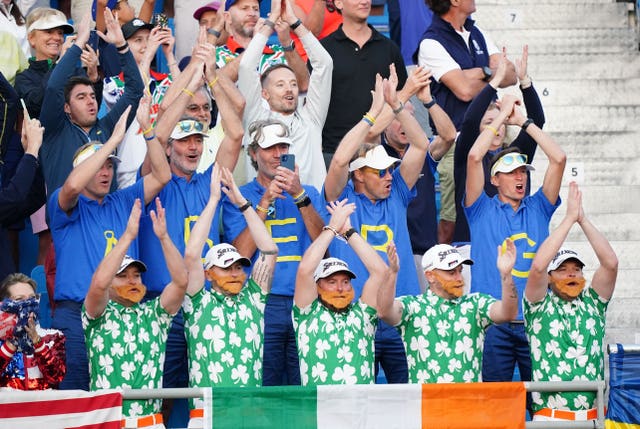 It is considerably smaller than that which greeted participants in Paris five years ago, where nearly 8,000 golf fans roared their approval for their heroes, but no less intimidating.
Rookie Sam Burns was first to arrive over the players' bridge, with Europe's pair sandwiched between him and his best friend Scheffler, but the Americans regrouped under the stand.
A decibel-busting welcome was greeted for Rahm and Hatton, who have acquired the moniker 'Team Angry' this week due to their similar combustible nature on the course, as they emerged into the steel and plastic amphitheatre.
The sound which greeted them cascaded down from the top of the steeply-pitched 25-metre high grandstand, the exterior of which had been wrapped in images of faux Roman Doric columns to play on the city's history, and reverberated around the tee.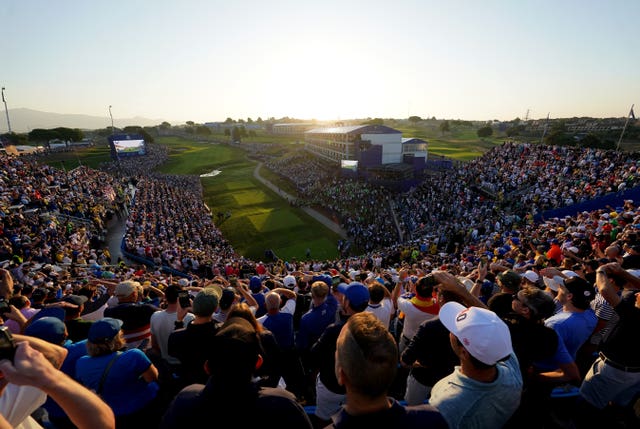 America's pair were greeted with chants of 'Who are you?', which was somewhat ironic considering Scheffler is world number one.
Thousands had sprinted through the gates to queue in the dark 40 minutes before the scheduled start time and while they were not quite baying for blood like their historical counterparts they demanded to be entertained.
Scheffler, as senior partner, took responsibility for the nerve-wracking opening tee shot but found the left rough and Burns could not find the putting surface with his approach.
By contrast Rahm drove into position A on the right of the fairway and Hatton put him in a good position to make birdie from 25 feet but when Scheffler's chip from the front fringe lipped out they settled for a tie and moved onto the second.